Man of The Mat: Isaac Reinemann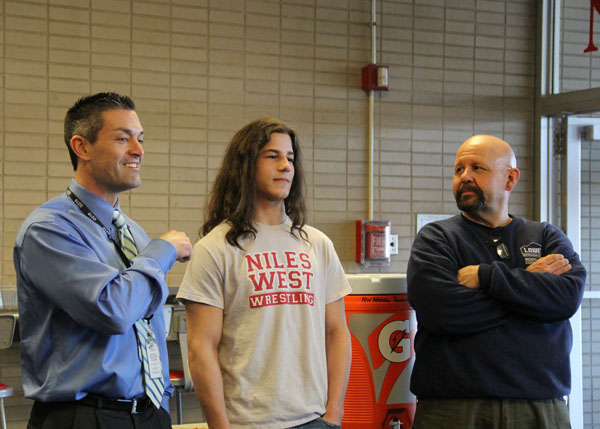 By Danny Thompson
February 27, 2014
He's one of the top wrestlers at Niles West as well as a star on the gridiron in the fall. You've definitely noticed senior Isaac Reinemann around the school with his "dude"-esque dark brown locks and cool demeanor. Before I can even begin my line of questioning towards Reinemann, he's approached outside the cafe by multiple people all wondering how he did at state and how wrestling is going in general.  He responds with a handshake and smile towards all of them, and reveals that while it didn't go as well as he had hoped for, it was still a cool experience.
Upon further pressing Reinemann said, "I wanted to place. I had a tough draw. I lost to the kid who took second 7-4 and then I lost to the number one seed 8-4."
Despite the ending, Reinemann had the best season of his career this year, going 36-9 and qualifying for the state tournament for the first time in his four years on the team.
 [nggallery id=313 template=galleryview]
In fact, every year has been better that the last for the 138 pounder, who joined wrestling his freshman year at the suggestion of his football coaches.
"Freshman year the football coaches told me it'd be good for football so I decided to join. My first year I didn't really know how to do much, but I pinned most of the kids and I had a lot of fun. Then sophomore year I had a 20-16 record, and junior year I was pretty good at 31-9, won conference, and qualified for sectionals."
Reinemann attributes his improved success to changing how he approaches the game.
"The challenge that I overcame was learning technique and not just relying on strength or heart. I actually got better at the sport," Reinemann says. "It's basically just getting good at a few moves rather than just knowing a bunch of moves."
Reinemann's favorite move? The double leg takedown.
"It's basically a football tackle," the man who plays linebacker for three months of the year says. No surprise there.
After this year, Reinemann is thinking of walking on to the wrestling team at whatever college he attends, which will most likely be the University of Indiana.
Aside from being a beneficial way to spend the football off-season, Reinemann likes the sport of wrestling for what it has given him.
"It's pushed me, it's made me a better person. It's one of my favorite sports. I love doing it, the work I put into it, It means a lot to me. I like how competitive it is, how you can only rely on yourself."
And of course, Reinemann's favorite part -as any wrestler will tell you- is that there are "no excuses involved," Reinemann says with a grin.