All that Jazz: Jazmyn Trinos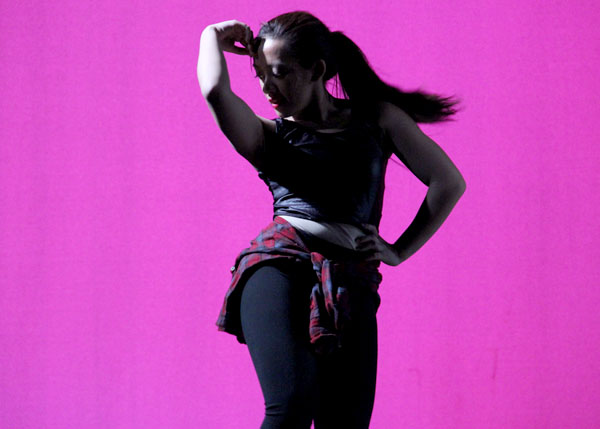 By Sarah Govis
March 10, 2014
The dancers, both boys and girls, take their respective spots across the wooden floor of the dance studio. Rap music pours out of the speakers and echoes off the walls. The first two groups of dancers move out to the center of the floor. Sophomore Jazmyn Trinos dances out with her group. Each movement comes to her easily, and the transitions into each new move are dramatic and explosive.
The Orchesis dance recital will be showing on Thursday, Mar. 6, Friday, Mar.7, and Saturday, Mar. 8 at 7:30 p.m. in the auditorium.
If you have attended any sporting events in which Orchesis has performed, you have probably seen Trinos dancing among the other students, ranging from sophomores to seniors.
"In preparation of the show, we have a full schedule of non-stop rehearsals every Wednesday, Friday, and selected Saturdays. Each practice lasts about two hours, with the exception of three to four hour practices on Saturdays. We learn numerous choreographies from a variety of styles and choreographers," Trinos says.
Even though dance has been an essential part of her life for as long as she can remember, her family has not always supported her decision to start dance.
"My grandma was kind of against the idea of me being so busy and joining all these dance programs. She said it was a waste of time and that it wouldn't benefit me in the future," Trinos said. "She thought it was going to interrupt my studies in school since it takes up the majority of my time, and she didn't like the fact that I was barely home because of it."
The dancers finish running through the beginning of their act to be performed later at the basketball game. Trinos watches her reflection in the mirror and practices the first few moves of the dance by herself. She turns to another girl on the team and helps her complete the moves with which she struggled.
Trinos' coach is impressed with the change her performance from the end of her freshman year, when she joined Orchesis.
"She's very focused and works hard to learn new choreography. She's learned so many new dance styles, which has made her a better dancer. She much more disciplined and has improved a lot over the last year," coach Christine Selander Widely said.
Trinos has had to deal with the lack of encouragement from her family, and more specifically, her grandmother, with whom she has a close relationship.
"It made me feel empty when my grandmother didn't come to performances. I would see my mom, my dad, my step dad, and sometimes my friends or cousins. It felt so different without my grandma there," Trinos said.
Her grandmother did not initially agree with her choice to do dance because she felt it would not contribute to her future.
"I wanted Jazmyn to focus on her studies and not be so distracted with dance. Jazmyn's gone from seven in the morning until about eight at night everyday with school and then poms or Orchesis. I can imagine how stressful it can be to balance your studies and activities along with it," her grandmother Celita Trinos said.
Even without the support from some of her family members, Trinos decided to continue dance.
"Dance is so expressive. You can show the audience how you feel through movements, especially for particular genres of dance. My love for dance has only grown and I can't imagine not doing it," she said. "No matter the moves or type of dance you do, whether it's hip hop or contemporary, dance gives you the freedom of  showing your unique style. It shows a flare of your own individuality and personality along with it."
Trinos also likes the ability to grow closer to others through dance.
"Dance brings other dancers together, and the best part about that is blending different styles together and learning from one another," she says.
Because her grandmother knows how emotionally invested she is in dance, she has started to accept her passion.
"At this point, Jazmyn has shown a passion for what she truly loves and as her grandma, I can't really force her to quit one of her passions. As long as dance keeps my granddaughter happy, I'm happy. I have gone to past dance recitals of hers from her dance company outside of school, and this year I plan on going to her Orchesis show in the spring," she said.