Where Are You Going?: Carroll University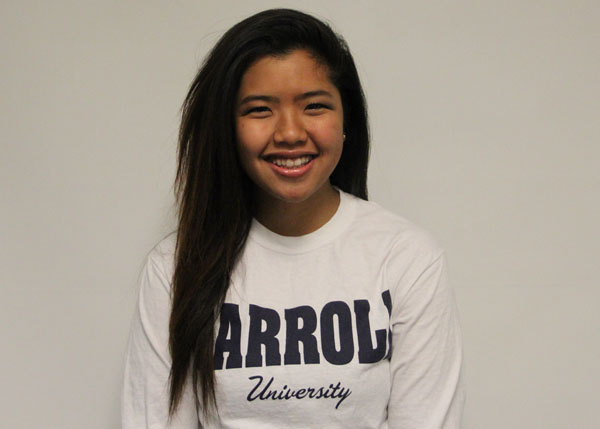 By Ashley Pak
March 11, 2014
Just a couple of months away from graduation and leaving Niles West for good, seniors are committing to their future schools. Senior Joerlyn Manalang already committed this month to Carroll University in Wisconsin and was offered to participate in a direct program.
NWN: What were your GPA and your ACT score?
Manalang: My unweighted GPA is a 3.6 and my ACT composite score 25.
NWN: What college will you attend next year and which program did you get into?
Manalang: I will attend Carroll University next fall. I was first interested in their direct program for physical therapy, which I got into. It was really exicting for me because nowadays physical therapy programs are really competitive, and now I don't have to worry about going to a separate PT school after undergraduate.
NWN: How was your college application process? 
Manalang: It was really hectic because of so many paper work to turn in on a specific due date. After applying and getting accepted, you have to worry about financial aid. Fortunately, Carroll gave me scholarships which made it cheaper to attend and dorm at Carroll rather than going to UIC and commuting.
NWN: Did you visit the school? If so, how was your stay?
Manalang: I visited a couple of weeks ago, and I loved it! You really need to stay over night to feel if a school is right for you. The people there were amazing, and it really feels like a close knit family because of how small the school is.
NWN: What did you like about the school?
Manalang: I really loved how it was small enough to know lots of other students and faculty member. When I visited UIC, I felt like the big classroom marked me as a number and I couldn't have a close relationship with my peers and professors.
NWN: What were your top choices that you were deciding on? 
Manalang: I had a week to decide if I wanted to stay here at UIC or go to Carroll in Wisconsin.
NWN: What are you most excited about for college next year? 
Manalang: I'm the first in my family to go out of state for college and dorm. I'm excited to experience living on my own and making memorable experiences with new people at Carroll as well as nearby universities.
NWN: What is one advice you want to give incoming seniors? 
Manalang: I would tell incomoing seniors to really visit the school they are thinking about. Staying there and really experiencing what the college has to offer gives a good feel to if you will be successful at that college.