Jeremy Sands: State-Qualifying Diver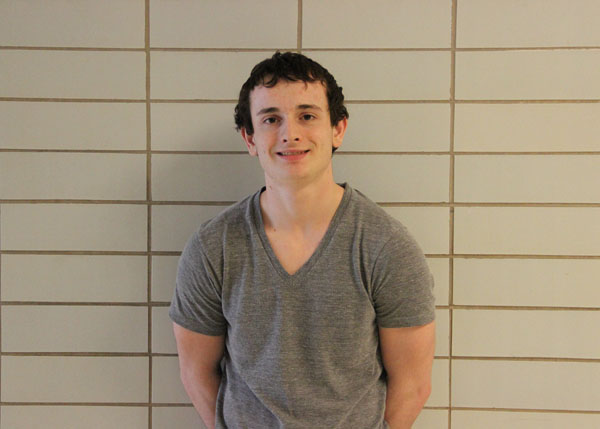 Hang on for a minute...we're trying to find some more stories you might like.
When he came to Niles West as a freshman, junior Jeremy Sands had no intentions of being a diver– he'd never done competitive diving before. With an affinity for gymnastics,  he spent a lot of time at open gyms in West's gymnastics gym– and it was there that he was "volunteered" to join the diving team.
"One day, the coach for gymnastics, (Adrian) Batista, came up to me and basically said 'You guys are gonna do diving,' because they didn't have enough divers," Sands recalled. "The diving coach, Adrian Lovera, went and talked to the gymnastics coach and 'I need some freshman who I can train up and hopefully qualify for state eventually'."
And qualify he did. Sands, one of just three Niles West divers by the end of the season, advanced to sectionals along with freshman Brendan OShaughnessy. There Sands took second place, and his score was high enough to be one of just 48 high school divers in the state of Illinois to advance to the state competition at Evanston Township High school. He would have to face his biggest diving challenge yet at sate: surviving the massive cut from 48 divers down to 16.
"I put my best five dives first so I could get as many points as possible and I managed to make the cut. I was 14th after 5 dives and got to do my next three dives, and my next three dives weren't fantastic and so I went down from 14th to 16th," Sands on his run at state said.
Sands admits that diving is a very psychologically-testing sport.
"It's more mental– trying to get over the fear of learning a new dive. During gymnastics you're doing a routine but the whole team's cheering you on, it's loud and other people are doing other routines (at the same time) on other equipment. For diving it's dead silent, one person going at a time," he said.
And though he would have never seen himself at the top of Niles West's diving team when he was coming into high school, there's no doubt that he's a committed diver now– and he loves doing it.
"It's just a lot of fun because you get to practice with these people all during the off-season and you get to finally compete against them," he said. "One of the best feelings– my coach told me this when I came in freshman year– was I would see these guys and compete  against them, they'd destroy me and beat me every meet. And then, one meet I went against a kid from Maine South and he completely beat me really badly, and my coach told me 'Don't worry. If you just work over the off season we'll catch up to him' and then at sectionals I went up against him and I beat him for the first time."
Such dedication to perfecting his craft both in and off-season has been noticed by some of Sands's best acquaintances.
Close friend and locker partner Kevin Shin said, "He's truly devoted. There are times when I would ask him to hang out but he would say that he couldn't because he had to practice diving. It takes so much devotion to give up something valuable in your life to succeed in something else."
Though he's put in a substantial amount of work to get to the point he is now in his diving career, he's got one more year to compete at the high school level, and he's determined to make it a year to remember. He trains at Glenbrook Aquatics when he isn't already diving at Niles West, and he hopes such training will help him reach him reach his goals.
"Next year I hope to make it top 12– that's all-state– and I want to get better over the offseason," he said, "but my overall goal would be to go 6th because my coach, Lovera, went 7th his senior year."