SingStrong to Take Place at Niles West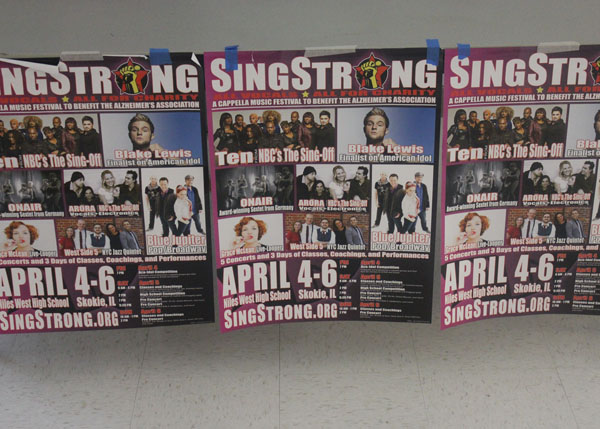 By Rand Jassar
April 3, 2014
Niles West is holding an a capella performance, SingStrong, from Friday, Apr. 4 through Sunday, Apr. in the school's auditorium.
[I'm] not going lie, a lot of us in choir can feel the stress of promotion for this event," senior Sharon Matthew said. "But we're all still excited because this event is full of so much talent. Before you don't know who the groups are, but then their performances are unforgettable. I experienced that last year and I'm looking forward to falling in love with music all over again."
According to choir teacher Amy Branahl the pro groups include Blake Lewis (American Idol), Ten, Grace McLean, Blue Jupiter, West Side 5, Arora (Formally Sonos), Breath of Soul, etc. And the high school groups include Echo Effect, High Fidelity, Guys & Dolls, Glenbrook South, DeKalb HS, and Lincoln Jr High.
"I'm really looking forward to meeting Ten from NBC's The Sing Off," senior Armeen Sayani said. "I used to watch their performances on TV and it's crazy to think that I'll get to watch them live in only a few days!"
Branahl is excited to see people show up to the event.
"Should be a great turn out. We have a lot of volunteers and students coming to the event, but we need everyone's support at the competition," she said.  "The more people we can get to the event the more we can donate to Alzheimer's Research."
Sayani agrees with Branahl.
"I really hope that the entire auditorium is packed because the more people that attend Sing Strong, the more money that will be raised for Alzheimer's research," she said. Also, [people will] get a chance to see some real, world-class acapella singing that they probably won't get to see anywhere else. It's a life-changing experience."
Tickets will be on sale outside the cafeteria to students for $75, adults for $100, and $15 for HS competition. A portion of the money will be donated to an Alzheimer's organization.