NW Theatre Sets the Bar High with Avenue Q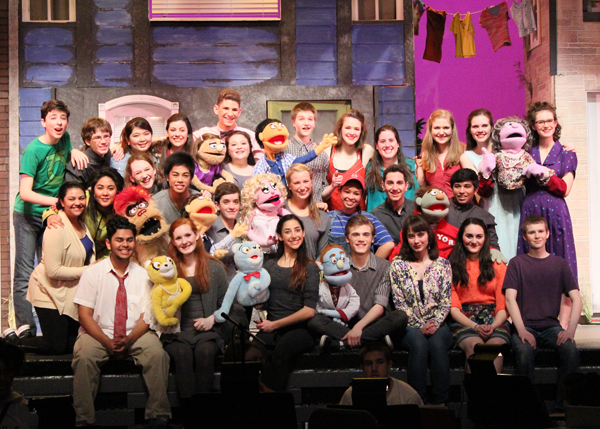 Hang on for a minute...we're trying to find some more stories you might like.
To be completely honest, I was a bit disappointed to hear about the fact that the last theatre production in my high school career was a puppet show. Puppets aren't exactly my favorite thing on this planet. "Sesame Street" was not my favorite show growing up.  On my way back to school to watch the show on Thursday evening, I thought to myself, "Just support your friends. This means a lot to them. They've worked so hard and put in so much time."
The thing is, when I heard the opening song, saw the stage craft, costumes, acting, and visible actors, I knew from the very beginning that this show was something I was really going to enjoy.
Seniors Sebastian Achettu and Jessie Rosell, and freshmen Alana Knobel and Grant Kilian were my favorites of the night. With such a big cast, each actor I mentioned made there characters really stand out.
The satire of the show was delivered so elaborately. While it was very funny to hear songs about being a racist, the fine line between friendship and love, and having a social life in jeopardy, the message about society's wrongs was clearly sent instead of promoted.
Senior and flutist Tracy Zarawsky sophomore and drummer Emily Matteson were probably my favorites from the pit. Zarawsky's flute playing was strong enough to be on its own during her solos and Matteson's beats were really able to set the mood during transitions.
Although I have to admit that I enjoyed act one more than act two, there were still elements in the play that kept me focused in watching the story. Call me a Broadway buff, but even though this production took place in the Robert L. Johnson Auditorium, I still got the chills when Knobel and Kilian had their duets.
All the way to the end, I'd have to say this production was the best way to end my NW theatre experience in high school. It reminded me of how high school was the first step into the real world that I entered. Just like Avenue Q, there are a some racist encounters, bullying, and failure, but at the same time, a sense of belonging, ambition, and accomplishments are available as well. NW theatre will never disappoint.