Teacher Appreciation Week: Michele Hettinger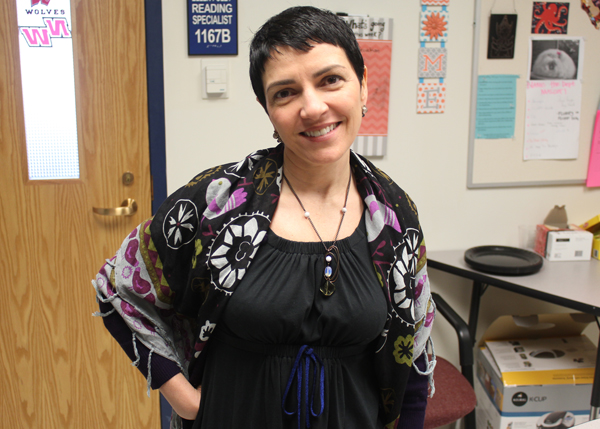 By Rand Jassar
May 6, 2014
Coming into a new school didn't bother me as much as having a sophomore English class during my junior year did. Since I transferred from a CPS school, the requirements were different. That meant I had technically taken what's considered junior English for Niles West during my sophomore year and must sit through a class meant for sophomores to finish my other required English course. I hated that.
However, after meeting Michelle Hettinger, I realized that it was fate. The class became one of my favorite periods- not because I liked writing or learning poetry but because having Ms. Hettinger be as excited as she was every day- and every period- reflected positively on my attitude. I felt comfortable talking to her about almost anything and at a certain point I mentioned that I was interested in exploring journalism. She told me about the Niles West News and advised me to talk to Ms. Lauer. I have been part of the NWN staff for about a year and a half now due to her help.
She also helped me become a much stronger writer. She knew that I've only been in America for about five years so she was always showing me different ways to make my writing style a bit more creative and neat.
There are a lot of amazing things that she has done to help me but if I keep writing, my wrists might start to hurt. One thing she has helped me with that I will never forget is introduce me to The Mash (Chicago Tribune's Teen Publication). I still remember this as if it was only yesterday: we were in the computer lab listening to a podcast about Dracula and answering some questions when she walked up to me and asked if I applied for the job. When I said no, she told me to finish the assignment at home and apply right then and there because it was the last day they were accepting applications. I ended up getting the job.
I'm not sure she knows it but she is definitely one of my favorite teachers in the school. Not because she helped me find something I'm passionate about, but because she wasn't just an English teacher. Being in the classroom, to her, was much more than explaining how sonnets work. She cared.