Amina Dzananovic: From Essay Contest Winner to Poetry Slammer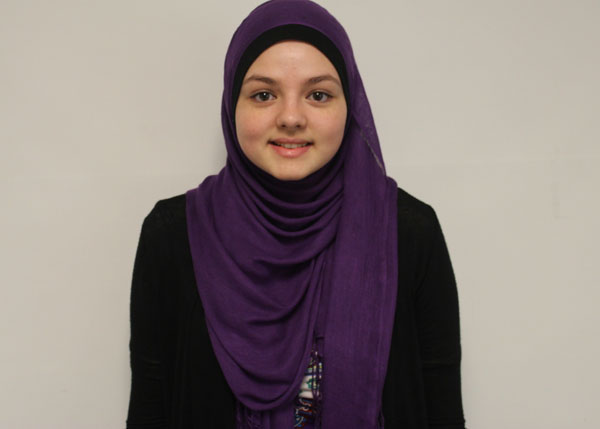 By Gretchen Sterba
May 8, 2014
9:00 a.m., and sophomore Amina Dzananovic's day begins with a trip to Fresh Farms with her poetry slam tam to get ready for her long day at one of many competitions. Once the white van drops them off, the team goes one by one to rehearse their original poetry and perform in front of their team. Intense practices on Saturdays from 9 a.m. to 12 p.m.,  are filled with writing about different topics, reading them and critiquing one another's, to practicing different pieces, group or solo, and it's all about to pay off. The team hugs each other for comfort, and Paul Bellwoar, the team's sponsor, gives them one last spiel of inspiration. Dzananovic takes a deep breath, looks out into the audience, and leaves it all on the stage. Applause roars and reverberates the room as she walks off stage, sobbing, because the feelings of emotion and intensity are overwhelming. After all, it was her first time performing. And the results came back from the judges; she got all tens.
EARLY LIFE
Dzananovic was born on December 27, 1997 in Switzerland to father, owner of a butcher shop, and mother, an artist. When Dzananovic's mother was little, her parents divorced, so she lived with her aunt. When the Bosnian War started, she was in her teens, so she had to leave her home and become a refugee where she hopped from place to place. At one place, she was told that all the teenagers were going to be in the war as, even on the battlefield. So her aunt had to go to the head of the department and had to request for Dzananovic's mom to go to school and finally got accepted. She was then sent to Croatia, where it wasn't as great as it would seem. Her mother would eat stale bread and soup everyday at the refugee camp she had to stay at. From there, she finally went to Switzerland, where she met Dzananovic's father who was also in a refugee camp. In order to escape becoming a soldier in the war, Dzananovic's dad hid in his mother's bus until his mother told him to go find his own place to stay because he couldn't stay with them. He then ended up finding citizenship in Switzerand, and after Amina was two, her family moved to Wisconsin and lived until she was in first grade, then moving to Chicago living on North Whipple Street, right by Northside College Prep. The transition from Europe to America was quite different, though, says Dzananovic.
"Well my parents are foreign, so moving here made me kind of transition from culture to bringing an American culture to my household. So that was kind of hard, I wasn't used to that. The way we dress here is way different from the way women dress at home," Dzananovic said. "Probably one of my biggest struggles was interacting with people here, it's also really different. It was hard to make friends without feeling kind of weird. Also when I was in America I got put into a religious private school, and the people there were really different too. At home, it was a lot more conservative, and here it's kind of all out in the open. It changed the way I looked at other people and myself."
RELIGIOUS VIEWS
In her middle school years during seventh grade, before moving to Skokie in eighth grade, Dzananovic decided to take the initiative to wear a hijab. This decision is one of the most important decisions a girl in the Muslim community can make, because it defines modesty and respect of oneself. A tradition in culture is to have a big celebration when a girl finally decides to take on the big honor and responsibility.
"One of the biggest misconceptions is definitely oppression for women. A lot of people kind of think that we're forced to wear a hijab, that if we're not we're shamed from society, and it's definitely not like that at all. It's kind of more like when you start feeling comfortable with yourself, you start to put it on," Dzananovic said. "Experience-wise, I know that if I didn't wear this, I would not be the same person. I like to think of it as a shield, because it protected me from a lot of things I would probably regret doing at this age."
We all see on the news, read on the internet or books and see on television that women who wear hijabs are sometimes looked down upon by people in America with different customs or beliefs. Once when Dzananovic was walking to the library with her mother, a woman flicked her off and was calling her names on the street. But she brushed it off, because she was raised to handle to this type of prejudice.
Finally, in eighth grade she moved to Skokie, while attending MEC (Muslim Education Center) in Morton Grove. She had her core classes, but also learned about religious studies. She learned Arabic, as well as religion and history about the culture as well as American History. She took her customs from home, learning to be a strong women to say what she wants and feels, but to not do things that are looked at as shameful.
"That's a lot of things people struggle with seeing. We're raised just like everyone else, we just have different values. We're taught to save ourselves and our bodies, and even relationships with guys are kind of questionable at our age. So, Islamicly, we put a lot of stress on having a lot of dignity and being strong enough in yourself to know what's right for you," she said.
POETRY
Dzananovic has always been a writer, but never did it for anyone but herself. She kept a journal in her middle school years, but stopped writing in it during freshman year. But one day in her freshman English class, she had to write an in class essay about how one's religion or beliefs has had certain discrimination against oneself. With a lot to say, Amina wrote away for fourty two minutes saying everything she wanted to say, until her teacher, Sally Graham, told her that the prompt was actually a prompt for an essay contest for the Mental Health America North Shore. She offered the class to enter if they so choose, so Dzananovic decided to enter on a whim. She ended up getting first place and winning $200.
From there, Mrs. Graham told Dzananovic that she needed to keep writing. Hesitant at first, Dzananovic agreed, and while writing her essay for a second competition, she was approached by sophomore and fellow Poetry Slam team member Thea Gonzales, who told her all about the team. Dzananovic declined, but when sophomore year started, she entered the First Amendment Freedoms Art and Essay Contest, once again getting first place and winning $1,000. After feeling blown away, she then knew that writing was something she was good at.
After reciting a spoken word at the Variety Show with friend Ya'meen Saima, she was praised — yet again — for her writing skills. She finally decided to check out the Poetry Slam club, even though she felt as scared as a "freshman." Right then and there, Mr. Bellwoar put her and Ya'meen on the spot to perform the poem. With harsh critiques, Amina thought she wasn't going to come back, but she soon got over the criticism.
"In my head, I thought I was never going to come back again. I don't know how or why, but I came the second time, and yeah, I guess I just kinda got hooked on it from there. I'm glad that all that happened though, because it led me here," she said.
Although she liked the atmosphere of the club, getting used to it was rough. She had to start opening up to people who were complete strangers, and if she was going to talk at all in poetry, she had to talk to everyone. But surprisingly, everyone was open.
"I guess when you find the right people, you feel like yourself. And that's where I feel myself the most."