Teacher Appreciation Week: Thank You, Mrs. Tina (Pauley) Schmidt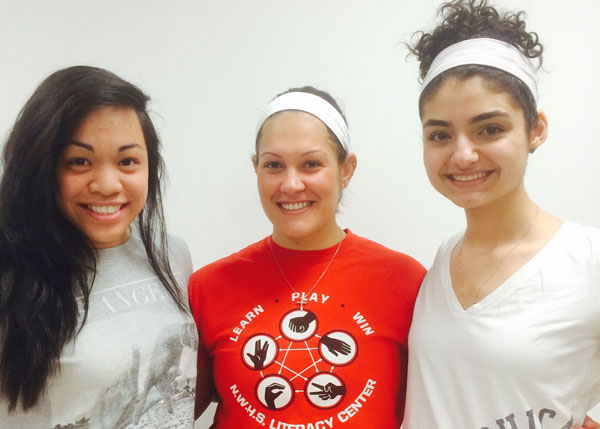 By Gabrielle Abesamis
May 9, 2014
Editor's Note: This is the fourth in a series of thank-you columns by NWN seniors in honor of Teacher Appreciation Week.
There's a fine line between being a teacher and a friend. The combination of authoritative respect and being a confidant is hardly ever attainable for a student and a teacher, but sometimes life gives you teachers like Tina Schmidt.
You may have noticed her in the hallway wearing bright Nike sneakers, a backpack, and her hair pushed back in a headband and ponytail.  But, the way she dresses is only one of the many clues that give away her laid back and personable qualities. Call it a trick or a scheme, but it whatever she does to try to make students motivated and comfortable works. I have yet to meet past and present students that have shared unsettling and awkward stories about her.
Be it her jokes that tie into anatomy and physiology, the pep talks she gives her students battling senioritis, or the educationally stimulating environment her presence gives off in the class room, her popular and favored reputation is well deserved.
My senior year in high school wasn't exactly the way I imagined it to be. Being a straight A student for the past three years and having the realization that high school was about end, responsibilities were going to pile up, and independence was going to be inevitable was not pleasant for a sheltered small town girl like me. I started to miss school at least once a week and I thought the idea of catching up wasn't going to be realistic anymore. But thanks to Ms. Pauley (Schmidt), my anxiety was calmed. While I was learning about the integumentary system, making up for skeleton and gender classification labs, and studying for my missed test and quizzes on joint injuries, she managed to give me hope. She expressed personal concern and reminded me about life's curve balls. She made me feel safe when my world was completely shattered.
On the week of December 1, when many college applications were due for her senior students, Ms. Pauley coincidentally gave a test that many students didn't ace.
When she realized the reason for her students' abnormal test performance, she started class by telling us, "I will make sure this day, and everyday after will involve me doing the best that I can do to help you succeed."
All eyes were on her. Everyone knew they had to work hard because they didn't want to waste er hard work either.
So, on behalf of all your students, I'd like to thank you for being the best that you can be. I'd like to thank you for being "real". I'd like to thank you for the wisdom you've shared with us. I'd like to thank you for the countless after school hour tutor sessions.  I'd like to thank you for all the fitness, health, and honest advice. I'd like to thank you for your unconditional dedication and investment in us.