Teacher Appreciation Week: Thank You, Mr. Wack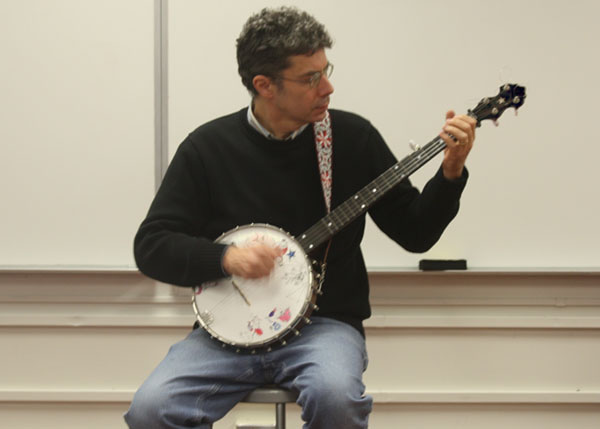 By Gabrielle Abesamis
May 9, 2014
Hang on for a minute...we're trying to find some more stories you might like.
Editor's Note: This is the fifth in a series of thank-you columns by NWN seniors in honor of Teacher Appreciation Week.
When I recieved my senior schedule in the beginning of the year, nothing made me happier than knowing that I would end each school day with AP Literature with the class of 2013's favorite male teacher, Mr. Paul Wack.
As the first semester went on, I was inspired to keep my mind open while reading challenging works. I started enjoying the intimidating assignments and didn't seem to have a problem sharing my ideas and questions with him and the environment he created for the classroom.
Just like many of his students, I felt very lost and sad when he told us he wasn't going to teach us for the rest of the year. Though we didn't see him very much after the first semester, he never failed to provide us with guidance. He still kept in touch with us through email, helped us with our college applications, and wrote us each personal messages at the end of our research papers.
Mr. Wack is a perfect example of how the job of being a teacher does not end in the classroom or in the school building. It goes on until their students succeed. Thank you so much for giving your students hope and great memories to have about Niles Wests' esteemed faculty.
"I've had some amazing teachers but he just blew me away with his level of understanding. His ability to move beyond his role as a teacher in order to really connect with us was, in my experience, unprecedented. How often he shared his thoughts and emotions and the ways in which he did made it really hard for me to accept that I only got to experience his presence in the classroom for such a limited time," senior Kyle Kent said.
"A teacher leaves his mark on a student beyond what is taught in the classroom. I have never had a teacher with as kind, patient, and caring disposition as Mr. Wack. I am blessed to have been educated by him in literature as well as being a person of character," senior Connie Dang said.
"He is the most caring and kind-hearted teacher I've ever had. Not only did I learn about writing and what not, but he taught me about life. I'm so grateful to have him as a teacher because of his great personality. I genuinely looked forward to going to his class every day," senior Melanie Leftakes said.
"Although I'm bummed that I didn't get to spend much time with you as a senior, your class was honestly my favorite last year. We always talked about interesting topics that got me one step closer to being as wise as you are. Hope you're feeling well," senior Dianna Fulea said.
"Mr.Wack is truly one in a million. He makes dull topics exciting with his upbeat attitude and cheers up everyone in the room with his warm smile. His dedication to his students and his work is remarkable," senior Amanda Muir said.
"Mr. Wack was the type of teacher willing to help you in any situation. He always made time for his student, and never gave up on them. He's really funny, and one of the best teachers I had at Niles West," senior Ashley Pak said.
"Walking into his class the first day, he presented us with a poem, 'Wild Geese' by Mary Oliver, with the message to not try to be anything but ourselves; it is now my favorite poem. His easy going personality made his class something I looked to every day ninth period due to our discussions about intricate poetry and short stories. When I met with him outside of class for a test or essay, it's like I was talking to an old friend. You can tell that he's just a really good guy and eager to help his students," senior Gretchen Sterba said.
"Mr. Wack is a humble man, a dude that will admit when he's wrong, work with you, and is more concerned that you're doing alright than shoving grades and work in your face. He's a teacher that took the time to get to know you through class, and was just unashamed to actually care for his students. When he announced that he wouldn't be able to continue teaching our class, the pain in his voice was real, because deep down, he is a real teacher; he is a man that just loved his job and didn't want to be anywhere else in the world," senior Raphael Lagoc said.
"Mr. Wack is the sweetest person I've ever met. He's so humble and modest and so down to earth. He touches everyone's hearts without even trying. Even though he was only my teacher for a short time, Mr. Wack is a teacher I'll definitely remember and miss when I leave Niles West," senior Lynn Vo said.
"Mr. Wack is the kind of person who wouldn't get angry about someone bumping into him and spilling tea all over him while trying to give him a hug; rather, he is the kind of person who would just go and give you the hug anyways and thank you for something that is worth a thousand times more than just some spilled tea. And that is what makes me so happy to have been a student of Mr. Wack's. He is one of the most genuine and kind people I have ever met, and I hope to have the pleasure of knowing him for many more years. I truly appreciate him for everything he has taught me, and this is least I can do or say to thank him," senior Fatima Farha said.
"He was one of my favorite teachers at west. His class was the only one I looked forward to junior year! I really hope he is feeling better because everyone misses him back at school," senior Arviola Pemaj said.
"Mr.Wack is a very caring and open-minded person. His presence in class was very warm and genuine. He always gave off good vibes no matter where he went. He always walked in and walked out of a class with a smile," senior Mahnoor Bhatti said.
"Mr. Wack is possibly one of the most understanding teachers I have come across. He gets how us students think and always is willing to share his passion for English with us. He always has a smile on his face and it inevitably spreads to those around him," senior Smita Jain said.
"He's very curious and gazes out beneath his Harry Potter like glasses to learn new things about the world. He strives to help his students because he is very calm, patient, and persistent. All in all, Mr. Wack is the coolest person, teacher, and bird watcher ever," senior Rizwan Syed said.
"You have to be one of the nicest and funniest and humble human beings put on this earth. We have never met a teacher who has done so much to connect and teach their students. For the time we had you, you made an impact on our lives and your class was the high point of our days," senior Brian and Stephanie Knorr said.
"Mr. Wack is so endearing and it's a shame we didn't get to know him over a course of a year. We all learned though, from the few months he still taught, that it's possible to not have anything but a gentle kindness inside of you and that was through him," senior Sharon Matthew said.