Breaking News: Commencement Speech Finalists Announced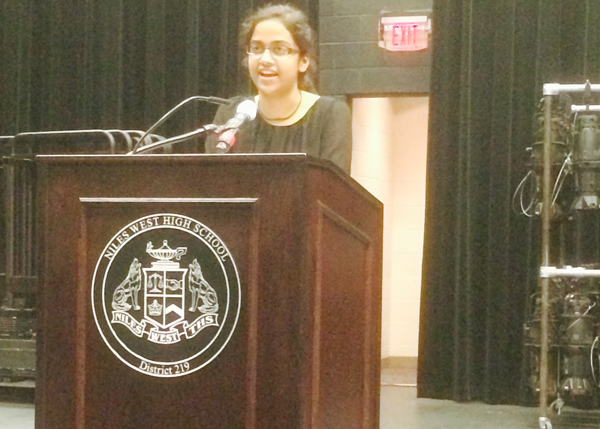 By Gabrielle Abesamis
May 15, 2014
A second round of commencement speech auditions will be held after school Monday, May 19 where a panel of five judges will award one of four finalists with the honor, according to principal Jason Ness.
Math teacher Bob Nortillo, guidance counselor Hope Kracht, theater director Andy Sinclair, activities director Jessica Pritzker, and Ness will judge senior commencement finalists Asma Hussain, Hafsa Wahid, Sharon Mathew, and Smita Jain.
"We're looking for someone who has good speaking abilities, humility, maybe some humor and a message that resonates with the class of 2014 — certainly you have your individual experiences but a message that others can relate to," Ness said. "I think we have a great committee and panel. It won't be like 'American Idol' but we're really excited."
The first round of auditions were held in the black box theater Monday, May 12. Twelve students performed speeches in front of student Pritzker. The topic of the speeches was "Life Lessons learned after I spent four years with the class of 2014.
"This is the first year we did this without a valedictorian," Priztker said. "Since we didn't do this with a valedictorian, Dr. Ness asked that I do auditions for the class speech that was normally given by the valedictorian. There were a lot of good speeches. We're going to narrow it down and I'm going to have a second round."
In past years, the class' valedictorian speaks at graduation. Due to the removal of class ranks, this year, the speaker was not supposed to be decided based upon a rank.
"The reason we got rid of class ranks was because it affected college admission decisions. Some students need to be in the top half [of the class] to be admitted," college career counselor Dan Gin said.
Jain,who said she believes she would be valedictorian under the class-rank system, said she would be honored to be selected.
"The tradition has been for the valedictorian to speak at graduation, it's an honor given to that person for all of her hard work over the four years," she said. "I know that we do not show ranks, but the school keeps track of them still and everyone knows who it is. I guess I just felt that it was unfair that I had to audition for something I had already earned through my four years. I know I sound like a pretentious brat because of it, but it's how I feel."
Ness said he understands Jain's concerns and that is why a committee of five individuals has been set up to judge the four students.
"I think that's very fair and I understand that prospective — that's why we're putting this committee together," he said. "Nothing is set in stone. This year is a really good start to this new tradition and based on student and staff feedback we'll make adjustments as we need to. But for going through it for the first time, we've broken it down to four really great candidates that we're very happy with," Ness said.
English and public speaking teacher Sharon Swanson agrees that the valedictorian should get the honors.
"I think certain people are talented in different areas. For example, someone could be a great public speaker and have a 1.5 grade point average. Just because someone is a good public speaker doesn't necessarily mean they should be the one giving a speech at graduation.I think there should be a valedictorian," Swanson said.
Junior Cassie Bergman agrees.
" I understand that doing away with class ranks, but I don't think that has to affect who gives the speech during graduation. I think it's obvious who the valedictorian is in any grade, and I think it's an honor and a right to give it to the student who deserves it the most. I think this is taking away that honor The senior class president and the valedictorian should be the only ones giving the speech. That's how it's always been and I think it should stay that way," Bergman said.
Mathew, who also participated in the try-outs,  believes that although Jain has achieved remarkable things, she believes that the auditions were the best way to go.
"While Smita is one of my friends and her achievements over the years are remarkable, I don't agree that the graduation speaker has to be the person with the highest rank. Having gone through this graduation speech audition experience in eighth grade and on Monday, I thought it was nice to hear speeches from a diverse group of students, which is what Niles West is known for. There were people there who I didn't expect that blew me away. I liked that Niles West changed the tradition, because plenty of our peers are insightful, more than you think," Mathew said.
Senior Amy Hadzimuratovic does not agree with the valedictorian's speech tradition.
" Just because you have a good GPA, doesn't mean you're the best person to give parting advice on high school," she said.
Let us know how you feel about the commencement speeches by voting in the homepage poll. 
Seniors Hafsa Wahid  and Rand Jassar contributed to this article.