Accolades to be Held This Sunday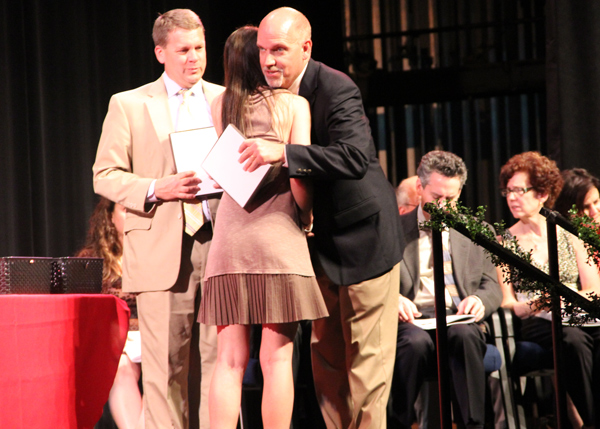 Hang on for a minute...we're trying to find some more stories you might like.
On Sun., May 18, students will be recognized and awarded for academic achievements accomplished throughout the 2013-2014 school year  in the annual Accolades Ceremony.
Unlike other years, the ceremony will take place on a Sunday because of past scheduling conflicts students have had with other activities, so moving the ceremony to a Sunday is an attempt to have more attendees.
"In the past three years, other big events going on during the week make them unable to attend. Since it's on a Sunday, we're hoping it will be more of a community day with the family," Student Activities Director Secretary Patricia Ference said.
Student Activities Director Jessica Pritzker says in past years, students have not able to receive such big awards because of scheduling conflicts.
"When a student wins a big award, it's sad because they have a game or something and can't make it," Pritzker said.
Awards range from DECA placings to best P.E. leader of the year, but each student is encouraged to attend to receive their award in front of a crowd full of family and friends.
"I'm attending accolades because I placed third at the Illinois State DECA competition for international business plan along with [seniors] Deepa Pardiwala, Jessie Amga," senior Jillian Rashid said.
"The actual ceremony is really nice. It's great to be able to have parents to see their children walk across the stage for something they worked really hard for. It's something the students shouldn't take for granted because they work really hard to get their award," Ference said.
"I have never been to accolades before and I'm really looking forward to it because I am the first in my family (I have three older brothers who graduated from West) to receive an academic award and my mom is really happy," Rashid said.
Ference says that because of the ceremony being on a Sunday, attendance is already higher than years past.
"Statistically speaking, we already have more directors and students able to attend this year, which is great!" Ference said. "Accolades is a great program to have aside from graduation to recognize what people have done."