Cold Water Challenge: Adventure for Some, Antic for Others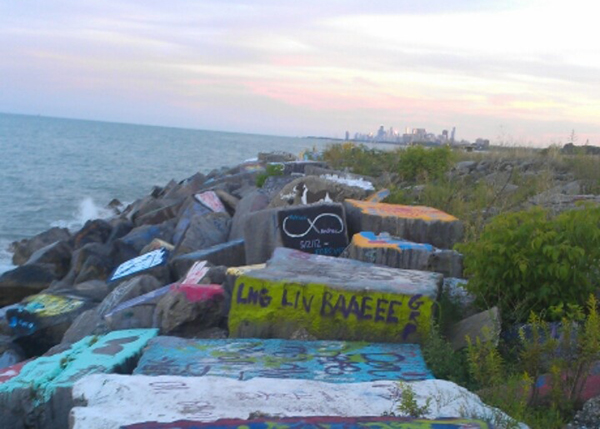 By Michelle Sproat and Giovanna Zavell
May 20, 2014
With temperatures barely reaching the high 70s in the middle of May, it would usually be odd to see teenagers at the local beaches. However, thanks to a new game, the "cold water challenge," teens in the North Shore area are plunging into the Lake Michigan waters unsupervised, and nominating friends to do the same.
The nominations typically go in the form of a Facebook status that says: "Thanks (insert friends name here) for nominating me for the cold water challenge. I nominate (insert names of three or four other friends here) to jump into a body of cold water within 24 hours otherwise you owe me (insert amount of money, type of food, object, or donation to charity)." And then you hear a splash over the fuzziness of the wind on the video.
Senior Ruby Ladrido was one of the participants in the challenge after being nominated by one of her friends. She jumped off one of the piers near Northwestern University, much like many other students who have taken the challenge.
"I have always wanted to do it and been looking forward to have a chance to actually try," Ladrido said. "I don't know it just seemed like an adventure."
Sophomore Sara Dym said she participated in the challenge because her peers did it as well.
"It was a thrilling experience," she said. "I did it because I was nominated, and I didn't want to pass the opportunity up because it sounded like a lot of fun."
Other students said they don't see the plunge as an adventure.
"I hear it started as a thing for charity like if you don't jump you donate money to a charity of the other person's choice which I  thought was nice," senior Valya Borisova said. "But then people started doing it for no reason or for free Starbucks or some people started doing it alone at night which is pretty dumb and dangerous."
When this challenge first started becoming popular, and everyone's Facebook news feeds began to fill with these videos, it was only a matter of time before someone was going to get hurt, and someone did. A 16-year-old boy from Minnesota was found dead after taking the challenge, by himself.
Principal Jason Ness is aware of the cold water challenge and believes that it's a risk to the students' lives who participate.
"I don't think it's a good idea, and it's crazy to jump into the lake in the middle of this weather," he said. "There can be unintended accidents due to unknown dangers when not supervised. The students participating may not know of an underlying medical condition, such as an irregular heartbeat, that could affect them from doing this challenge."
New Trier was one of the first North Shore high schools to become aware of this new fad and warned the community by sending out e-mails to the parents regarding the challenge.
New Trier alumni Abby Ortenberg, who graduated last year, said she disagrees with the New Trier staff sending out warning e-mails.
"I don't really think that I (or anyone for that matter) has a right to say whether or not it's okay for them (the students) to do it," she said. "If they feel that it's okay and right for them to do, then they should do it. If they want to put their lives in danger jumping into a less than 40-degree lake, then they have that right.  I don't think it's right that the school sent out the letter, the challenge isn't happening on their property, they are just trying to cover all of their bases so that parents can't come to them complaining that they didn't try to stop the situation from happening."
 Although many participants believe they are being conscious about their decision and taking precautions, Ness believes there could be other factors contributing to the risks.
"Students may be under the influence of alcohol, drugs, or peer pressure and are not acting rational," Ness said. "Be smart, think it through, and look out for each other when participating in this risky fad."