Q & A with the New Assistant Principal
By Colene Gibson
March 8, 2011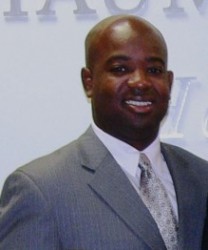 Niles West will welcome a new assistant principal, Kendall A. Griffin, for the 2011-2012 school year.  Check out what the NWN learned about our future assistant principal:
Q: What school were you working at before and what were you doing there?
A: For the past three years, I have been working as one of the five assistant principals at Schaumburg High School. My primary responsibilities included student discipline, school safety, and evaluating the certified staff in the Social Studies and Applied Tech departments.
Q: What attracted you to working at Niles West?
A: The excellent reputation of Niles community schools, staff and facilities, and the opportunity to work in a very diverse school building.
Q: What do you plan on doing to make Niles West a better school?
A: Well, from what I know and have heard about Niles West High School it is already a very good school and diverse community. What I plan on doing immediately is attempting to build a positive rapport with the students, faculty and staff there. Hopefully, through my efforts and hard work, I will be able to further enhance the positive and collaborative climate of NWHS I have come to hear so much about.
Q: What are you looking forward to the most about working at Niles West?
A: I am really looking forward to getting to know the students, staff, and faculty of Niles West and working within a very diverse, collaborative, and progressive educational community.
Q: What do you enjoy doing in your free time?
A: I really enjoy working out, playing X-Box 360, traveling, watching sports, spending time with my eight-year-old daughter, and playing flag football.
Q: Where did you attend high school?
A: Fenwick High School (Oak Park, IL)
Q: Where did you attend college and what did you major in?
A: Loras College (Dubuque, IA) and I majored in Psychology.
Q: What are your plans for the future?
A: I hope to have a very long tenure at Niles West and District 219, and eventually have the opportunity to be an athletic director or principal someday.
Q: What was your experience like working for D211?
A: I really enjoyed my experience here at Schaumburg H.S. and District 211 and credit the principal, Tim Little, and the other administrators there for my professional growth as an administrator. I had the opportunity to work with outstanding administrators, faculty, and staff and the students here were extremely respectful and easy to work with. My biggest regret was not having the opportunity to get to know more of the students at the school.