Behind The Light Has a Few Bright Spots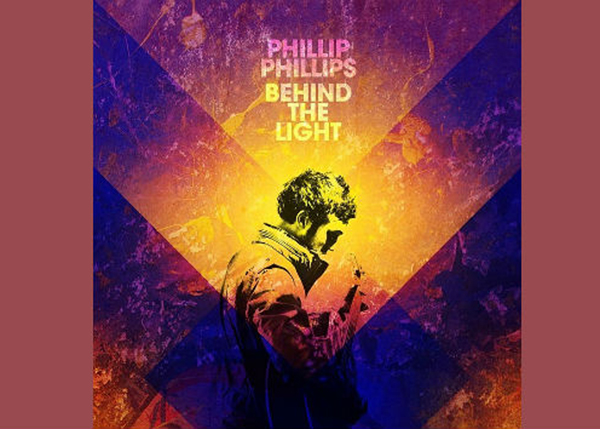 By Vinny Kabat
May 23, 2014
Two years removed from his Season 11 American Idol crown, Phillip Phillips had high expectations following his certified-platinum debut album. "Behind the Light" was a solid sophomore release for Phillips– here's a track by track analysis.
Searchlight– Phillips set a high standard with the album's first song, shedding light on a path of high expectations to follow. Driven by the strum of an acoustic guitar and quarter-note bass drum beats, one can't help but tap their foot along to "Searchlight". The song comes to life, especially once it reaches the chorus, which, like Phillips's hit song "Home," is enhanced with a vocal chorus in the background.
Raging Fire– Already one of Phillips's most popular songs, "Raging Fire", which was debuted on the show that carved Phillips' path to fame, is the hit of the album thus far. With a catchy riff from a string ensemble, the song's story is backed by powerful music. As the lyrics indicate, Phillips is singing with hopes of winning over someone he has an affinity for. Embedded in another very catchy chorus, "Raging Fire"'s lyrics make for an identifiable anthem sure to go down as one of his hits.
Trigger– Yet another song addressed to the one he admires, it's quite clear what was on Phillips' mind in the songwriting process for this album. With a Dave-Matthews-Band-esque sound– a distant saxophone and ornate percussion in the background to fade out the end of the song– Phillips set a more desperate tone in the chorus of "Trigger" than in the album's first two songs, a feeling he conveyed effectively.
Lead On– In the album's fourth track, Phillips profiles his being unconditionally hypnotized by his lover. Though a more than respectable track with a relatable message, "Lead" On lacks any standout qualities to make it a big time seller.
Alive Again– One of the album's more feel-good tracks, Phillips profiles his feelings of rejuvenation in "Alive Again". Backed by his trusty acoustic guitar, Phillips excelled at channeling his happiness. Though some of the songs' instrumental breaks felt a bit bare at times, "Alive Again" is one of the more exhilarating tracks Behind the Light has to offer and seems fit for the soundtrack of happy-themed movie.
Open Your Eyes– You've got to appreciate the background music on "Behind The Light", and it's at its best on "Open Your Eyes". With a handful of tasteful drum fills, the major-chord throughout the song entail an optimistic mood. Though he's often compared to Dave Matthews, "Open Your Eyes" sounds like it could easily be a Five For Fighting tune.
Fool For You– On it's own, "Fool For You" would be a catchy tune with a relatable story. However, 7 tracks into the album, it doesn't offer much deviation from the borderline-monotonous music of previous tracks and essentially offers the same message as "Lead On".
Thicket– "Thicket" is certainly refreshing for someone who listens to the album straight through. Offering more ornate string and guitar orchestration, the song's dismal G-minor key reflects Phillips's realization that "Our love was just a dream, just a dream."
Fly– Opening with some tasteful steel guitar and acoustic picking, "Fly" is another breath of fresh air in "Behind The Light". Profiling Phillips's restless desire to make a difference and stand out in the world, "Fly" offers one of the album's most triumphant choruses and a killer electric guitar solo to close out the song.
Unpack Your Heart– Like "Fool For You", someone that had not just listened to the preceding tracks would really dig "Unpack Your Heart". However, as yet another love song– this time expressing Phillips's complete love for whomever it is he's singing about– with an all-too similar orchestration behind him, "Unpack Your Heart" does not stand out.
FACE– The album's most musically unique track, "FACE" is a stripped-down work of art. Bluesy acoustic bass and acoustic folk guitar behind him, Phillips addresses his unidentified lover, begging for mutual sentiments. And in this track, his words can truly be felt because of the incredibly intriguing music in the background, proving that less is more.
Midnight Sun– Though the album's final track offers a valuable message, emphasizing the importance of embracing challenges, it's lack of musical variation negates the story quite a bit. The album could have ended on a higher note with "FACE" as it's final track, and omitting this track wouldn't have hurt the album one bit.
3.5/5 Stars