2014 Boys Varsity Football Preview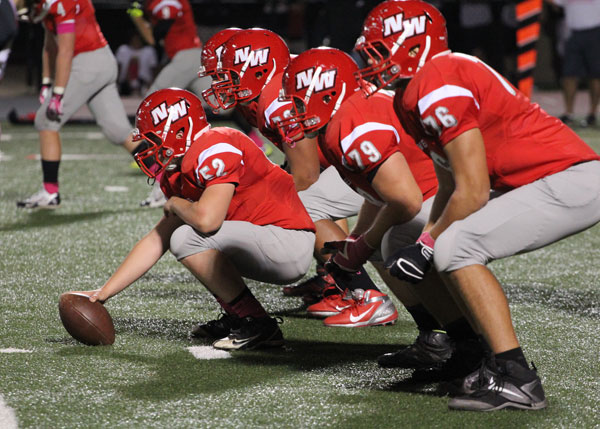 The Niles West News sat down with head football coach Scott Baum to talk about the upcoming football season. We are all looking forward to a year with more wins, a more mature offense, and more records waiting to be shattered.
NWN: What are the goals you have for this year coming off of a 6-0 start?
Baum: Our goals for the season this year are to make the IHSA state playoffs and win some playoff games this season. Hopefully this season we can hit seven wins and go into the playoffs with some confidence
NWN: How do you plan on approaching the second half of the schedule this year?
Baum: We will take on every game the same this season, with a week of hard work at practice and to put up a hard fight on the field. This year we are looking to get more wins through the last three scheduled games against New Trier, Glenbrook South and Maine South. Last season we went into the playoffs on a three game losing streak, and this year we are looking to go into the playoffs off of a win against the second half of our schedule.
NWN: Who are your key players this year who will lead the team?
Baum: This year we are looking to senior quarterback Tommy Galanopoulos to lead the team along with seniors Quran Spillman, Brandon Costantino, and George Tripkos on offense. Defensive wise we are looking for everyone to contribute and have a solid all around team.
NWN: Last year, your defensive key players were mainly seniors, who are you filling in their shoes with?
Baum: This year we are looking to a lot of younger guys to lead the defense, and looking to some of the returning players to be the heart of this years defense. We are going to have the Pignato brothers at linebacker and safety (Adam and Jeremy) leading the team along with Deante Dunum on the defensive line. Also, we are look at some young Defensive backs to be starting including  junior Yaniv Shields and sophomore Matt Galanopoulos.
NWN: What are your expectations for the team?
Baum: The expectations for the team are like they are every year and that is to continue putting in hard work and we will see where a great work ethic will take this team.
The Wolves play their season opener tonight at Ridgewood against the Rebels.