Classrooms First in Full Effect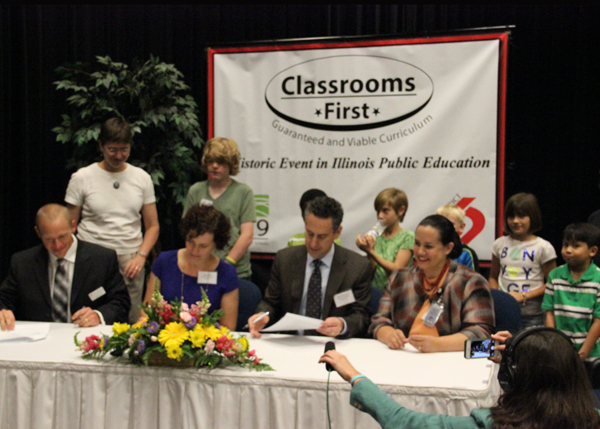 In the Black Box Theatre on Wednesday, Aug. 20, 2014, the Classrooms First Consolidation signing took place with Illinois Lieutenant Governor Sheila Simon in attendance.
Niles West Township District 219 and the Skokie/Morton Grove District 69 collaboratively joined effort in order to initiate a guaranteed common curriculum from kindergarten to the 12th grade. This program is intended to reach out and assist the feeder elementary schools for student preparation.
According to principal, Dr. Jason Ness, the goal of the program is to, "place college readiness at the forefront."
Another goal is to reach out to students at a younger age and get them involved in science, and the future opportunities they'll have in the subject in high school. Niles West junior Alan Kotlyar spoke out about his experience interacting with the elementary students.
"We used Phineas and Ferb examples and activities to engage the fourth graders we worked with, so that we could teach them chemistry experiments in a fun way," said Kotlyar.
Between student testimonials and administrative elaborations, the presentation led up to the bill being signed by Lieutenant Governor Simon.
According to the District's outline of Classrooms First, "The partnership ensures all students have access to a shared 21st century infrastructure, which means we will be able to use our collective facilities more efficiently."