2014 Girls Varsity Swimming Preview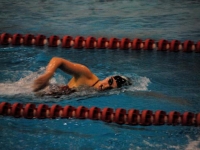 The NWN sat down and interviewed girls Varsity swimming coach Jason Macejak. The upcoming season is looking bright for the girls and coach Macejack has high expectations.
NWN: What are your goals for the season?
Macejak: We have a meet against Niles North coming up and it always comes down to the last relay, and the goal is to keep the trophy here at West. Also, this year we are looking to step it up and beat some of the dominant schools. Other than that, we are looking to break some records on the record boards this year, and to get a handful of girls going down to state rather than just an individual.
NWN: Who are going to be the key players to this year's season?
Macejak: We've got senior Emma Helgeson, who was 0.15 seconds away from being all-state last year, returning seniors, Abby Hegberg, Lauren Patt and freshmen Mia Piljevic and Katelin Avenir who are making the future of this team look pretty bright.

NWN: Anything you are looking forward to in particular?
Macejak: We are looking to have a great 3 months of training, and to get those lifetime best scores.
NWN: What does your everyday practice consist of?
Macejak: We practice twice a day, sometimes we are in the water twice, or sometimes in the weight room doing some dry-land. We have almost 10-11 practices per week, depending on our meet schedule. These girls are pushing the brink, but they handle [the rigorous schedule] very well, and they know it's what they need to do to get better.
The Girls Swimming team is one of the hardest working teams at West, and this season they are looking to make a big splash. Their next meet is this Saturday at home for the Niles West Invite. Girls diving starts at 9 a.m. and girls swimming begins their meet at 1 a.m.