Q&A with the Homecoming King and Queen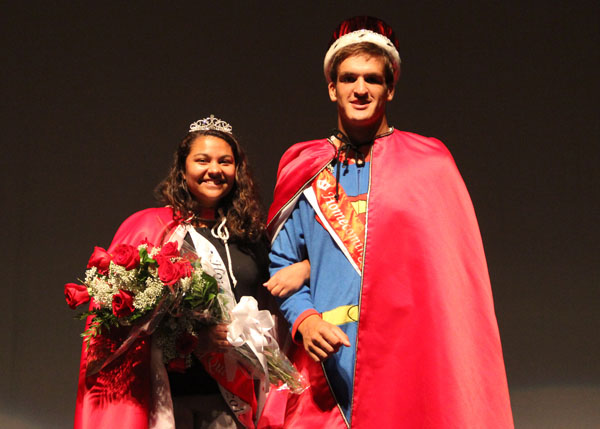 NWN: What is your favorite part of Homecoming week?
Sherlina: That's a tough one. I can't decide between the game or the dance. Both of them are highlights in my year! The game is like the best place to lose my voice (don't show this to Mrs. Branahl!!!) but the dance is awesome for making my body sore. So I guess they both are great.
Tommy: Besides the game, my favorite part of the week is probably the pep assembly. It's real exciting and the feeling of being out on the middle of the court during the assembly is indescribable.
NWN: How did you feel when you won?
Sherlina: I was just kajdlkajdslkjdlkajr. I couldn't hear my name being called except for the "han" in "Chauhan," and I thought, "Hey, that sounds like my name." Then I looked around at the other girls, and they were all still in their chairs, so I thought, "Oh, I think it's me!" Then I proceeded to look like a five year old getting a cookie on stage. It was awesome. Can't say my queenly elegance was on point, though.
Tommy: I was a little surprised and I was more happy just so I could tell my mom that I won, and if it wasn't for her I would have never ran.
NWN: What are the activities you're involved in in school?
Sherlina: Theatre, Choir, CEC, and Relay for Life have been with me all of high school, and I've picked up on some other clubs and activities. Book Club, Hebrew Club, and H2O have found their way into my life, and I love them! I'm also a Literacy Center tutor and a tutor leader for this school year. Thespian Society, National Honor Society, and Spanish National Honor Society are also what I'm involved in. And this year, I'm a freshman mentor for the first time! I try to get as much sleep as possible.
Tommy: I play quarterback on the football team, and I run indoor and outdoor track.
NWN: Activities out of school?
Sherlina: Sleeping!!!! Haha, well, that is true. I go to church every Sunday! And I'm going to be managing the social media of the church community. Other than that, most of what keeps me busy is school-related, and I'm perfectly happy with that. There's so much to keep you on your feet at West. Especially being where I've ended up, I can't imagine needing to look anywhere else.
Tommy: School keeps me pretty busy, so I can't really say I'm part of any outside of school activities.
NWN: What are your hobbies?
Sherlina:  Singing!!! Even if you can't sing Beyonce, if you have the privilege of knowing a Beyonce song, you'd better sing that Beyonce song. Reading is another big one. Oh, the places you'll go! You can make so many references that people won't get, but it won't matter, because books take you where you let them take you, and there's not much more magic in the world than that. Along with that goes writing. You can take yourself somewhere if you can't find it already existing. And eating food is super cool. Can we all just own it already?
Tommy: It might be random but I love fishing. Anytime I am free on the weekends my dad will pack up the boat and we'll go find a lake to fish. Other than that, I guess I love watching college football, that's what I spend most of my weekend doing.
NWN: What are your plans for the future?
Sherlina: Oh, yes. The dreaded question. But I've been one of the lucky ones. I know I want to go into the medical field, and I've had my eyes on being a surgeon for a while. Something is so cool about the hands-on application of science, in the most valued way possible. Also, dissections just get me so hyped. My English teacher from last year, Mr. Klingenberger, recommended a book to me about what being a surgeon is like, and it both scares and excites me at the same time. But apart from a professional career, I want to keep growing and learning through all the new experiences I'll find wherever I go. I hope to find myself never getting a full night's rest, and loving every minute of it.
Tommy: I guess my main future plan would be to play college football. Ever since I started playing it's been a dream of mine and I hope to get there next year.
NWN: What sets you apart from other people?
Sherlina: What sets me apart? I'd have to say how I find meaning in everything and don't hold back from thinking and feeling genuinely in any situation, without fear or worry. All of these come from the cornerstone of my existence: living in God. Everything I do comes from His glory, and there are no limits to life, when it's in the hands of the Lord.
Tommy: I think what sets me apart from everyone else is that I'm just a happy kid. I don't ever get mad and I'll always have a smile on my face. I'm open to everyone;  you can ask me anything and I'll be willing to help with whatever it is. So I guess I'm just an overall kind, friendly person that you don't really find everyday.
Mario Ljubic contributed to this article.