Thespians to Perform "She Kills Monsters"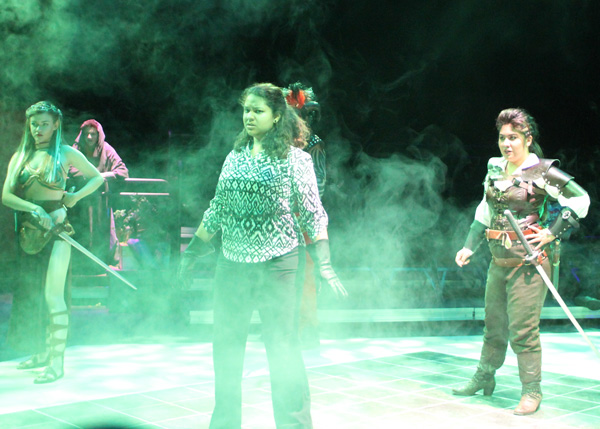 By Kelsey Ledford
September 17, 2014
Hang on for a minute...we're trying to find some more stories you might like.
This Friday and Saturday, in the Black Box Theatre, the production "She Kills Monsters" will be performed. The play is about a 25-year-old schoolteacher named Agnes Evans who has lost her family. Her 15-year-old sister, Tilly, leaves behind a journal which turns out to be a module for a Dungeons and Dragons game. Agnes decides to play the game and through it discovers Tilly's imaginative escape from reality with homicidal fairies, nasty ogres, and 90's pop culture.
Tickets are being sold by cast members and at the door. Tickets for adults are $10. Tickets for students, senior citizens and children 12 and under are $7. Curricular theatre students can buy a ticket for just $5, but they must be currently taking a Niles West Theatre Course. The performances are Friday, Sept. 19 at 4 p.m. and 7:30 p.m. and Saturday, Sept. 20 at 4 p.m. and 7:30 p.m.
Theatre director Andy Sinclair said he chose this play from a student's recommendation.
"When I choose each season, I am looking for a nice balance of classic and modern texts that will challenge the actors, technicians, designers and audiences," he said. "A student actually gave me this script and said I should take a look at it. I instantly was attracted to it because we have never done a play like this in my time at Niles West. The script is set in the world of Dungeons and Dragons and has a nice science fiction spin to it. This is a world that was foreign to me and I thought could become a nice challenge for our troupe. Plus, the entire story is an allegory for the 'monsters' we must all face to our true identity. While I couldn't instantly respond to the Dungeons & Dragons world, I could respond to that — and it made me excited."
Although the outcome is always spectacular, working on a show can be difficult, Sinclair said.
"This play is huge in its scope," he said. "There are lots of monsters in this play — many of them are puppets or costume/prop pieces built on actors to create monsters. Everything in this play was built and created by the costume designers, crew heads and production crew members. There are also 13 fight sequences — about four times as many as there were last year in 'Romeo and Juliet'. It has been a fun challenge to create a fictional world and lots of battle sequences against monsters!"
Senior Sherlina Chauhan, who plays Agnes, says this play is important to her.
"To me this show serves as a reminder that you never really know someone, even if you think you do, until you have lived life through their eyes," she said. "And bringing their problems and truths and secrets to your head can be so difficult. Especially after knowing what it feels like to lose a friend to problems I wasn't aware were intensely held inside, I deeply value the new found love and acceptance that serve as themes in the show."
Chauhan is very excited about acting as Agnes.
"I look forward to perfecting what we've all been working towards and seeing the reaction of everyone who comes to see it. And I look forward to the performing!," she said.
Sinclair encourages students to see the show, saying that it will leave quite the impression.
"This play is unlike most plays students will see in their life. It is quick moving and full of humor, fights and monsters. It also has a heart and a message. This is a show," he said,  "that will stay with audiences after they leave the theatre."