School Day, Graduation Requirements Discussed at Town Hall Meeting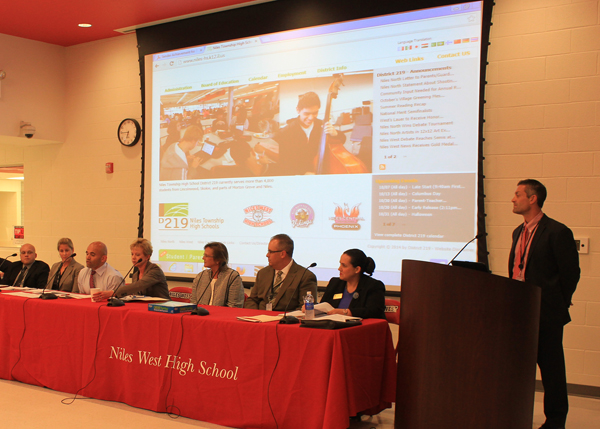 The south lobby was transformed into rows of chairs facing the D219 administration Wednesday, Oct. 1 at the first town hall meeting of the year where community members, parents, and students voiced their opinions of the district's goals.
Niles North principal Ryan McTague started off the night talking about Max Gadau, a senior at Niles North who was a victim of shooting Sunday night.
"The entire school community was shocked, but we're blessed to have amazing faculty and staff and parents who supported us. No matter what challenges we face, we will move forward," McTague said.
Superintendent Nanciann Gatta then introduced the five items on this year's annual review of programs: a new school day, a school-based health clinic, college readiness, and digital literacy and community service graduation requirements. Members of the community were able to express their opinions and ask questions during the event.
Here's a review of each recommendation:
SCHOOL DAY
A new school day would not go into effect until 2016-2017.
The school-day committee has proposed the following four possible school-day options: 1). keep our current 42-minute nine-period schedule; 2). change to a nine-period day with 45 minute classes; 3). change to a eight-period day with 50-minute periods; and 4.) change to an A/B block schedule with four 90-minute period classes per day.
For more information, see the school-day committee's presentation.
A vote will be made at the March 16, 2015 board meeting.
SCHOOL-BASED HEALTH CLINICS
The board has already approved the school-based health clinic, which will provide all students (both insured and uninsured) access to mental and medical healthcare.
District 219 is working with Heartland Health Centers as the service provider.
Parents at the meeting expressed concerns about who would treat students and with what consistency. Assistant superintendent of special education and student services Pete Marcelo said the district was working with current members of the social services team to create a work flow. He also said they don't anticipate reducing the current social services staff because of this change.
COLLEGE READINESS
Classrooms First Consolidation
D219 has partnered with D69 in a curricular consolidation, which will begin at the kindergarten level, that will help achieve high school and college readiness.
To learn more, read the previous NWN story here.
GRADUATION REQUIREMENTS
Digital Literacy
The digital literacy program is being piloted with freshman this year.
The goal of the program is to increase student knowledge in 21st century digital skills
Community Service
The district is considering adding a community service graduation requirement like several other schools in the area require.
Parents were concerned that it might take a lot of time out of the students already busy days. They were concerned that their kids already are packed with sports or after school clubs that they barely have time to do their homework, and now they're going to have to go out and have to work community service hours in order to graduate.
The school board will take action at its Monday, Nov. 17 meeting on all items but school day, which will be voted on March 16, 2015. Stay tuned to the NWN for further articles about the school-day options and school-based health clinics.