Meet Me in a Minute: Mr. Matthew Wiemer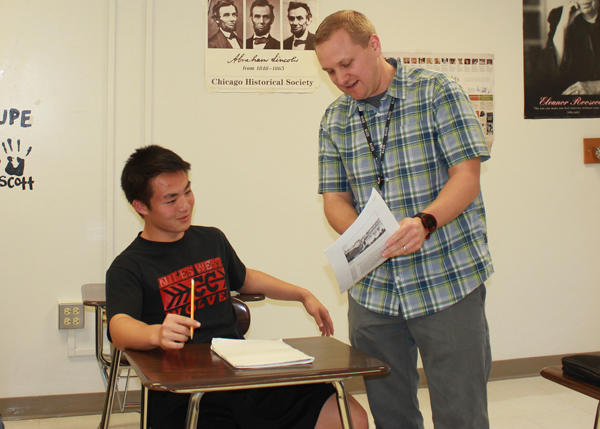 By Sarah Govis
October 10, 2014
When social studies teacher Mr. Matthew Wiemer was growing up, everyone in Glenview recognized his family.
"I'm a twin, and my dad was a blind teacher. He went blind due to complications with his diabetes. He continued to teach for twenty years with an aid after. So my dad was a blind teacher and I had an identical twin," Wiemer said.
Ever since he was young, he knew he wanted to be a history teacher.
"My dad was a middle school teacher, so I had that model growing up," he said. "I always thought it was something I wanted to do. My junior year in high school I had a history teacher I really liked. It was Mr. Meyer's brother, who taught at Glenbrook South. He was my favorite teacher."
For college, he went to University of Illinois and later Northwestern University.
"I majored in both history and political science," he said.
Also an athlete, Wiemer explored his athletic interests in college as well.
"When I was younger, I played baseball and hockey. In college, I played two years of baseball," he said.
Many students appreciate having him as a teacher.
"He makes a lot of relevant jokes that aren't lame. When we were learning about [former Supreme Court Chief Justice] Roger Taney, he screamed because of how ugly Taney was," junior Kristin Recinto said. "I think he's funny."
Students agree that his style of teaching keeps his classes exciting.
"At first, I wasn't so sure about his class but the way our schedule worked and the Moodles and the teaching style made the class a little more interesting," senior Natalie Massih said. "He was awesome and made the class hilarious."
Many students appreciate his involvement in student government as well. He sponsors student government and Model UN.
"Mr. Wiemer is one of those teachers that has a lasting impact on his students. Fortunately, I've had Mr. Wiemer as an APUSH teacher and a government sponsor for all my four years here at Niles West," senior Cassie Bergman said. "He livens up any situation whether he is in the classroom or out in the real world and I'm glad I've gotten to know him."