A Track by Track Review of Motionless in White's Latest Release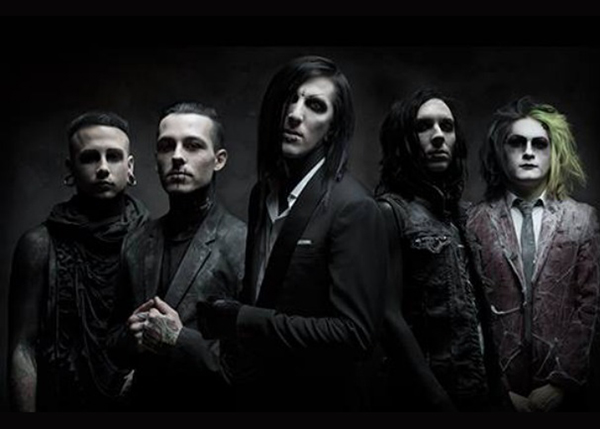 By Sarah Govis
October 13, 2014
Motionless in White's newest album, Reincarnate, is their first album in two years. Reincarnate is a big leap from their previous album, as they experiment with fewer electronic beats. The electronic beats usually affected their albums negatively, as it is hard to pair their screams with an electronic beat.
1. Death March
The album's opening track is a heavy anthem for anyone angry at the world. It's a good way to open the album, seeing as many post hardcore albums open up with a sad song. The anthem is an inspiring opening.
2. Reincarnate
The album takes a turn and becomes a bit sadder, although it is still a bit angry. Chris Cerulli, the lead singer, stops screaming for a rare moment to deliver the lines, "I'm crawling from hell, falling from grace. There's nothing left for you to take." The lyrics are so perfect, and anyone that has ever questioned their faith or struggled with religion can most definitely connect with it. It's a powerful, thought-provoking song, and probably the best on the album.
3. Puppets 3 (The Grand Finale) ft. Dani Filth
"Puppets 3 …" is the final song in a trilogy started after one of Cerulli's horrible break ups. The song explains his final feelings over what went wrong. While the song definitely strays from their normal sound, it's not in a good way. Filth's voice contributes nothing to the song, and he sounds like an elf who lost his way and ended up in a recording studio instead the forest where he belongs. He sounds terrified and confused, and he was not the correct choice for a guest voice. The lyrics are important and could help anyone struggling with a bad break up. It paints a picture of moving on and growing from the past.
4. Unstoppable
The next track has an important message, and probably the best lyrics of any song on the album. It is a bit reminiscent of The Color Morale's "Hold On, Pain Ends" in that it carries an anti-suicide message. The lyrics asks the listener to carry on, to keep fighting, to know that there is a way to break free from the chains of your past. The song intends to show the listener that the pain they are currently experiencing will be useful to them one day.
5. Everybody Sells Cocaine
The next track is very dark, seeing as Cerulli explains how many individuals use drugs as a way to escape their emotional pain, and proclaims that "God is for the weak." It's scary and a bit hard to listen to, especially considering that is truly how some choose to live. The pain is real and intense, but it contributes a lot to the album.
6. Contemptress ft. Maria Brink
The sixth track discusses a relationship in which Cerulli's girlfriend cheated on him. Brink's voice contributes a lot to the song; her emotions are painfully clear and very real. Her voice is stunning and provides a good change from Cerulli's screams. Choosing her for the guest vocals was possibly the best decision the band could have made for the album.
7. Break The Cycle
The lyrics in this song are incredibly powerful; Cerulli here is asking to be freed from his life of pain and suffering. He wants so badly to be happy and have his life be changed for the better. He discusses how difficult it is to truly change.
8. Generation Lost
In this song, Cerulli discusses the difficulties of growing up and being a teenager. Their generation is messed up, and there's no way for them to get on the right track. The only way to truly escape it is to die.
9. Dark Passenger
This song paints a picture of a person struggling with suicidal thoughts. The speaker is not like others, he explains, because he is struggling with this. He cannot connect with others because his struggles are interfering so greatly with his life. It's an important song because it touches on suicide — a topic people often are scared to broach.
10. Wasp
This song discusses Cerulli's attachment to a girl. She is like a wasp in that she has stung him. It hurts him, but he still wants more of her. She is beautiful and he can't escape her. No matter what he does, he can't get rid of her because she following him around, buzzing in his ears.
11. Dead as F**k
This track is creepy and reminiscent of Halloween as it describes Cerulli driving into a graveyard and bringing a girl alive. The girl belongs to him as he brings her alive. The girl basically whatever he pleases. It's a bit odd, and it doesn't really seem to fit with the other tracks, especially because it follows a track about suicide.
12. Final Dictvm ft. Tom Skold
This track discusses how unimportant God is, and how He will not save anyone. No matter what your problems, or how much repent, there is no escape from your sins or your problems. The things you struggle with will haunt you forever.
13. Carry the Torch
This song strays from the others in that it basically condemns people for having an easy life. They have no idea how they got to place where they are, and have done absolutely nothing to get to that place. The message isn't positive or true in all situations, but it is important.
14. Sinematic (Acoustic)
The song discusses another one of Cerulli's relationships gone wrong. His partner, who he used to love a lot, has grown distant from him. They have nothing left to say to each other and nothing left to do. They are numb and there is no real point to their relationship. They take out what is left of their feelings by physically abusing each other. The song is dramatic and emotional, and by using the acoustic version, Cerulli is able to show his softer side. He doesn't use his typical scream. It's a welcome change, and the lyrics and beat are beautiful.
 I adore the majority of songs and the way Motionless manages to use different beats and still remain close to their post hardcore and metalcore roots. It's a beautiful album, although their previous album we're a bit better. Their attempts to change their sounds are positive. My only hope is that Cerulli is finally done with his "Puppet" series.
4/5 stars.