Military Service Families to be Honored Throughout November, At Winter Pep Assembly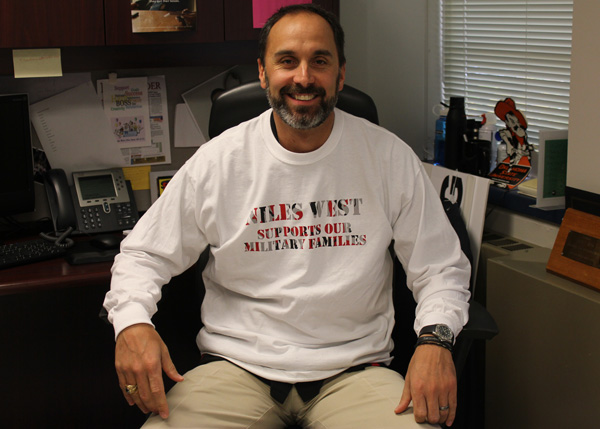 This year's winter pep assembly will be a new experience for all students and staff. The month of November will revolve around a school wide initiative to honor the members of our Niles West families that participated in military services.
"As a school we have never done this type of tribute, and I think it is extremely important, especially around the holidays," activities director Katie Odell said.
There will be several activities taking place throughout November. Blue stars honoring military family members will be given out during homeroom, and will be placed around the school. Invites for faculty members and students' family members in the military will be given out, and at the beginning of the assembly, these service families will be further honored.
"I think that it's great that we're doing this. We haven't done something like this in a while and I think that it's a great thing to do for the families," student government president and senior Rebekah Bender said.
Starting Monday, Nov. 3 running through Nov. 21, a care package competition will take place. Bins will be placed around the school for students and staff to drop off items. Items that can be donated include the following:
Box of snack bars
Beef jerky
3 pack or large 50 piece container of gum
1 bag of hard candy
Small bags of coffee and/or boxes of tea
1 box of drink mix (the powder packet you drop in a water bottle)
Can of fruit or quick meals (ravioli, spaghettios, etc)
1 bag/can of peanuts/nuts
Trail mix (12 oz minimum)
Sunflower seeds (10oz minimum)
Shampoo (12 oz minimum)
Conditioner (12 oz minimum)
Body wash (15 oz minimum)
Lotion (8 oz minimum)
Deodorant
Toothbrush
Toothpaste (2.5 oz minimum)
Cotton socks (longer socks, ankle socks don't work in boots)
If the school collects 2,588 items, assistant principal Mark Rigby will shave his head at the assembly on Dec. 5. That is one item per student, and if we collect double that amount, 5,176 items, he will also shave his beard. Rigby has his reasons for agreeing to this challenge.
"I have a strong connection to the military. My father was in the military. I was in the military. They live by a selfless code that makes life so much more fulfilling. I'm willing to do just about anything." Along with the care packages, student thank you letters to service members will be added.
T-shirts to be worn on Veterans Day and at the assembly will be sold for ten dollars at the beginning of November. The front will say "Niles West Supports our Military Families" in camouflage, and the back will include a quote in red.
Students will also take part in a color non-war. Seniors will be in camouflage, juniors in red, sophomores in blue, and freshman in white. The gym will be decorated in a "USA" theme. to honor service men and women.
So don't forget to support service men and women this month by purchasing a shirt and/or donating items!