Fine Arts Friday: Elisabeth Schapmann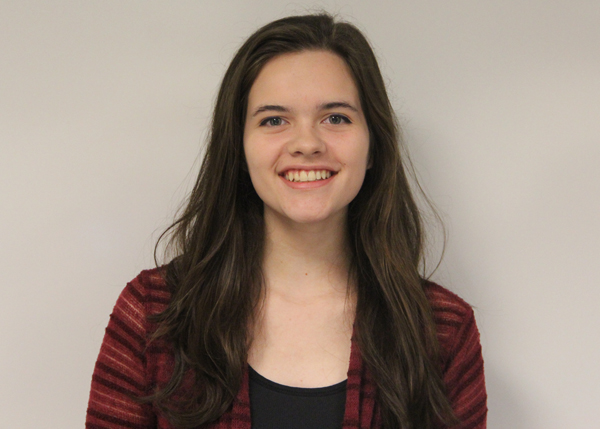 By Sarah Govis
October 17, 2014
Junior Elisabeth Schapmann became involved in theatre since she was young and that passion hasn't died.
"In the fourth grade, I was in the musical Treasure Island. But before that, I took improv and drama classes," she said.
The feeling she got from being on stage inspired her to continue pursing acting.
"It was a mixture of the adrenaline rush I got from performing and the joy I got from entertaining," Schapmann said. "Seeing the audience smile, laugh, and at the end, applaud, got me addicted to theatre. Now, I love that I get to create and tell stories to so many people."
Even though theatre is a huge part of her life, her parents did not initially support her decision to join.
"Once I started doing theatre at West and became a Thespian, I don't think my parents understood why I dedicated so much time to put on 'some silly little plays.' As the they realized that theatre was important to me, they have generally become more supportive," she said. "They still aren't thrilled about all the time I'm at school because of theatre."
Another reason she chose to continue her involvement with the school plays was because many of her friends are involved as well.
"A lot of my friends are also involved with the arts, so I think my parents understand why I'm so hooked. They think I'm a little crazy for putting in so much time, but they get it," Schapmann said.
In order to dedicate more of her time to theatre, she chose to quit marching band after participating in it for two years.
"At the end of the day, my heart wasn't in it. I was mostly in it because my friends were in it and I didn't want to upset them by quitting. I wanted to be in theatre where I really loved the work I was doing. It took me forever to tell my friends that I was quitting," she said. "They were disappointed and they didn't like my decision at first, but they eventually accepted it."
Even though Schapmann prefers to be on stage, she also enjoys participating in crew.
"Out of the thirteen productions I've been involved with, I've been on crew eight times and on stage five times. It's definitely a different experience. In scenic crew, which is building the set," she said, "there is an immediate satisfaction after completing a set piece. At first, it was sort of hard adjusting to the fact that after a performance, people weren't going to come up to me and say, 'Wow, that set was put together beautifully!' Through crew, I've learned how to be happy with the work I produce and not have that happiness be based on the approval or praise of others," she said.
Theatre instructor Andy Sinclair believes Schapmann is one of the most mature students he's worked with.
"Elisabeth is an adult in a teenager's body. Her responsibility and maturity are second to none," he said. "She's a jack of all trades. My favorite thing about her is that she never does anything half way — even the things that scare her."
Her friends appreciate the work she puts into crew.
"Elisabeth keeps a lot of us on task, but still makes working on the set a fun experience," junior Samantha Abbie Padillo said. "Working with her almost always ends with us laughing until we can't breathe."
Schapmann's work is important to many of the members of crew.
"She really puts in a lot of hard work in anything she is given. Whether it is on stage, backstage, or putting together the set, she is always working and helping others as well," junior Asha Lodhia said.
Sinclair appreciates her work backstage.
"She is competent backstage managing, and she takes advantage of the entire department. She excels at everything she does," he said.