Red Ribbon Week To Take Place Next Week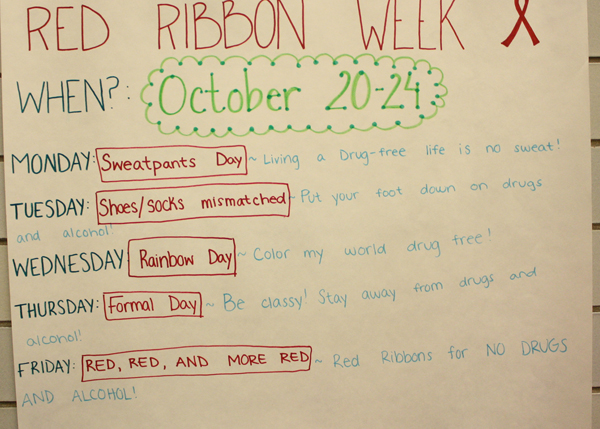 By Sarah Govis
October 17, 2014
Red Ribbon week will take place next week from Monday, Oct. 20 to Friday, Oct. 24.
"It was started in 1998 by drug enforcement officers promoting drug and alcohol free lifestyles and remembering people lost due to drugs. They want to promote the message to take a stand against that lifestyle," SADD club sponsor Jessica Madigan said.
Red Ribbon Week is also intended to change students' misconceptions about drugs and alcohol.
"There are misconceptions that a lot of people drink and do drugs. Students surveys show that the percentage is so low. We want to change the perceptions, get everyone together and other students to make good decisions and make a change," she said.
Many other activities will also take place during the week.
"We'll show survey videos throughout the week from In The Know. Freshman homeroom mentors are doing programs with the freshmen. We're decorating the school with ribbons, and we'll have bingo in the student commons with trivia about drug and alcohol prevention," Madigan said.
Many believe that Red Ribbon Week will benefit students in a variety of ways.
"It will create more awareness and show that not as many individuals are participating in bad choices as students think because of the statistics," student activities director Katie Odell said.
Students also think Red Ribbon Week will impact students positively.
"I think if everyone puts in just a little bit of effort to participate in red ribbon week in some way, it can send a really powerful message. Especially after what happened to two of our peers at North, I think we need to come together as a community and prevent such things from happening in the future," senior Cassie Bergman said.