Wolves Lose to Schaumburg in Sectional Semifinals
By Nick Goldwyn
March 11, 2011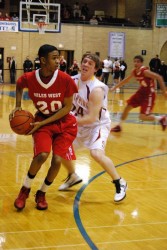 Niles West's 11th-seed Cinderella story ended Wednesday night, as the Wolves lost 56-48 to the 13th seed (24th-in-the-state ranked) Schaumburg Saxons in the Sectional Semifinals.
Varsity head coach Bob Williams said that he thought the team could have played better against Schaumburg.
"I was slightly disappointed, because this game wasn't our best game of the season," he said.
The Saxons jumped to an early lead (22-2) at the end of the first) and never gave the lead back. The Wolves played hard all 32 minutes, and except for racking up foul after foul, outplayed the Saxons in the last three quarters.
The 20-point deficit proved to be a little too much to overcome, as the boys pulled within three points with around two minutes to play in the game, but could not take the lead. It seemed as if every time the Wolves got close, the Saxons would hit a big basket, or go to the free throw line (where they were close to perfect) and put the game a little more out of reach. After the Wolves got within three, the Saxons extended the lead on two pairs of made free throws, and eventually won the game by eight.
The Wolves were lead in scoring by senior Tony Pierce who had 14 points (nine in the fourth quarter), both junior Nathan Sagett and senior Lauris Herth had seven points (and Herth added two steals), and senior Patrick O'Connor had four points in the game.
Williams added that the season, as a whole, went very well.
"When put in perspective, I'm extremely proud of the season," he said. "We faced a lot of adversity with starters missing playing time, but we played to the best of our ability, and we had a great season."
The season, unlike the game, was not a loss. This season the Wolves disproved all of the doubters that said the team would be in the middle of the CSL pack (so to speak), with everyone coming to see the girls basketball games play week in and week out, it gave the boys a chance to grow and mature without the added pressure of being constantly under the spotlight. With no pressure, the team flourished and won six of their first seven games this season. Overall, the team finished 18-12, with a huge win over Maine South and a Regional Championship plaque to show for their efforts.