Fine Arts Friday: 16 Niles West Students To Participate in IMEA Festival Tomorrow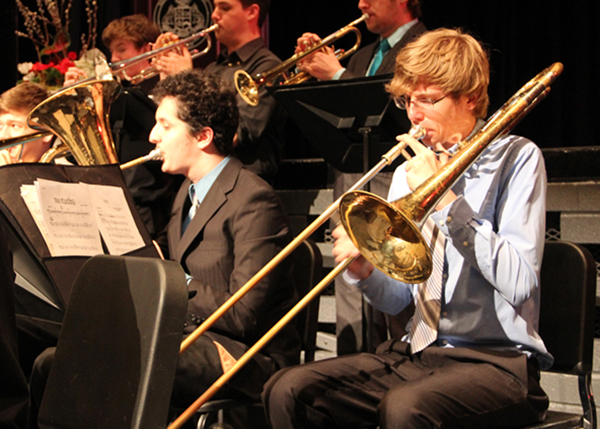 By Vinny Kabat
November 7, 2014
Many Niles West students involved in Niles West's band, Choir and Orchestra programs tried out for the 2014-15 Illinois Music Educators Association Festival and twenty of them were accepted. The festival is an opportunity for the district's top musicians to be honored in performing together in their respective musical ensembles.
Tomorrow at New Trier High school the band, orchestra and choir qualifiers will perform at New Trier high school.
The senior band consists of four students of Niles West's symphonic band under the direction of (Justin Johnson). They consist of:
Bradley Erickson, Tuba, Band
Vijay Shah, Clarinet, Band
Kevin Thurman, Bassoon, Band
Brandon Gligor, Euphonium, Band
The senior chorus consists of ten Niles west choir member. The senior choir includes the following Niles West Students:
Chester Beck, Bass, Chorus
Alysia Cedillo, Alto, Chorus
Thea Gonzalez, Alto, Chorus
Alan Kotlyar, Bass, Chorus
Cindy Lee, Soprano, Chorus
Marilyn Metz, Soprano, Chorus
Victoria Ogunro, Alto , Chorus
Kristin Recinto, Soprano, Chorus
Sarah Schierbeek, Soprano, Chorus
Brendan Tiongson, Tenor, Chorus
Choir director Amy Branahl is pleased to have so many students make the festival this year. "I'm incredibly proud of my students as many of them worked on the music with their private teachers and many just prepared it with the work we did in class.  I think it is a testament to our program that so many made it this year and that the quality of singing is continuing to improve each year!  I could not think of a nicer bunch of students who will be representing us at ILMEA District 7 Chorus this year," she said.
The senior orchestra includes two Niles West orchestra(directed by Steven Katz) students:
Walter Lindwall, Cello, Orchestra
Jesse Sacks, Trumpet, Orchestra
Niles West's fine arts director, Patti Anne Ford, credits the high number of students receiving the honor to a strong musical staff here at Niles West. "I would like to congratulate Amy Branahl, Steven Katz, and Justin Johnson as well as all of their students that made IMEA. Because of their work ethic, dedication, and passion for the arts," she said, "West has been represented with the highest honors possible by the movers and shakers that make our music department truly special."
Further information on the festival can be found at http://www.ilmea.org/districts/district7/