Keiann Williams: From VBC to HBC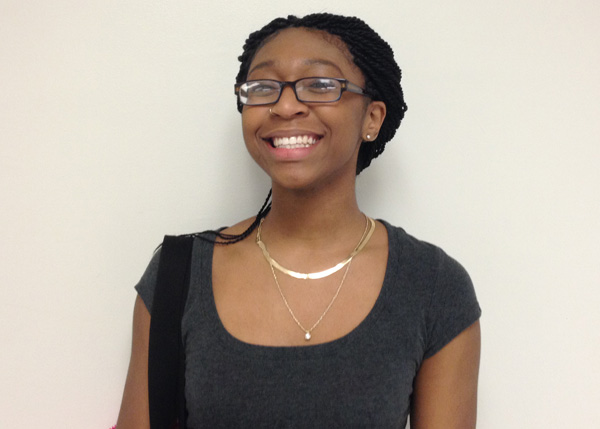 Maybe you know senior Keiann Williams from her easy-going personality in her classes or as a starter on the varsity girls' volleyball team this year. She's spent her years at West playing volleyball competitively in and out of school.
"Volleyball kind of helped me adjust and cope with high school because it's been a huge emotional roller coaster. I think the hardest part was learning who I was and finding reasoning as to what I wanted to do with my life, " Williams said.
There's no doubt volleyball has been a crucial factor in Williams' high school years. She utilized the sport to come to her own personal realizations throughout the years.
"In essence, my high school experience has been a collaboration of failure and success. I've learned that I'm probably better off learning through trial and error. Trying something new, possibly failing at it, and then finding new tactics to achieve and strive. I do better at my own pace, doing it my own way."
But when it comes to plans after senior year and for life in general, volleyball isn't in the picture. Williams hopes to find happiness wherever she goes. But going to a  historically black college (HBC) is definitely atop of the list.
"My biggest goal in life is to live comfortably and be happy. Also, to have an awesome story to tell to my grandchildren on my death bed," she said. "In regards to college, I just would like to be around people who relate to me and that I relate to too. I like Niles West and I like the diversity. I meet people who aren't like me, but i just love it when I can be around people who share the same background and similarities."
Staying familiar with her roots while learning whatever she's passionate about is important to Williams, hence why she plans on attending a liberal historically black college.
"Historically black schools also provide a higher education of learning, meaning some of the material is not taught in regular, formal universities like DePaul, UOI, ISU, etc. I would rather learn something I can benefit from and enjoy at the same time. It'll be fun, and I can reunite with my kind again."
Even though she doesn't have a major in mind, going to a liberal arts school has been key in Williams' college process.
"I'm into liberal  studies so I'm kind of in my own world most of the time. When I'm not playing sports I'm probably at home watching weird documentaries about the world or on the internet reading about climate change," Williams explained.
Collectively, volleyball and her goals for the future have shaped Williams' high school experiences and friendships.
"Keiann is the type of person whose mood affects everybody around her. She is someone everyone would be happy being friends with, and I've had the pleasure of playing volleyball with her and knowing her on more of a personal level," friend and senior Atorena Michael said.