Get to Know Nina Saro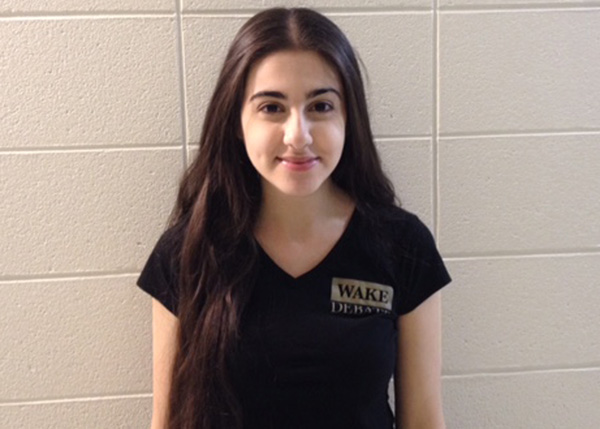 Oftentimes you can find senior Nina Saro scrambling between classes trying to fit as much studying and debate work in as possible. It's no doubt that Saro is dedicated when it comes to her top extra curricular activity.
"Niles West debate has become a new home to me, and being a part of a team that cares so much about every single person on the team always leaves me feeling included and welcome. I honestly cannot say I've ever been taken in so gladly by any other activity I've ever participated in," Saro said.
Debate has provided her with an abundance of opportunities whether that be travel or more extensive knowledge."Traveling around the country and learning all these things that I've never even taken the time to consider before has influenced me for the better too, and I really hope more people discover debate soon enough too!"
Although debate has influenced Saro's high school experience tremendously, her background has also played a huge role in who she is today. " I was born in Al Hasakah, Syria in 1997 and lived in a small village with my parents and two siblings for a while before we relocated to a lot of different areas in the Middle East," Saro explained.
Saro's family was a Christian minority in the country which led to political tension and ultimately her family's relocation. But her homeland still holds its influence in her life. "I think it's made me more open minded, not only to new cultures, but new ideas in general. I have a better understanding of the world around me because I realize that there's always going to be something out there that is different from anything I've ever known before."
When it comes to plans after high school, her dream school is University of Chicago, while her other top contenders are University of San Francisco and UMich. "I'm mostly considering going into political science, and that's largely influenced by my interest in international relations. I'm really, evidently, into women's studies as well."
Those who have left a mark on Saro throughout her high school years are her debate coach Eric Oddo, along with her close friends. "As my head debate coach, he's been someone to talk to and support me in whatever my current goals are. He's one funny dude too. Besides that, everything around me has probably influenced me in some way or another, but mostly my close friends Lucy Rees and Rachel Brown…and Imran Khan is always an inspiration."
"Nina somehow has this ability to be able to carry on a conversation with anyone, and make complete strangers laugh after just meeting her. I don't know how she does it. She puts effort into school, and works hard to improve in debate, all while juggling the other aspects of her life, so she doesn't always have it easy," senior Rachel Brown said.
"I think anyone who knows her recognizes how she has the ability to make literally any situation hilarious; she can lighten the mood so easily and make anyone laugh. She is incredibly easy to talk to, and overall an amazing friend. If you don't know her, you're missing out," senior Lucy Rees said.