Niles West Holds "You Make a Difference" Breakfast for Teachers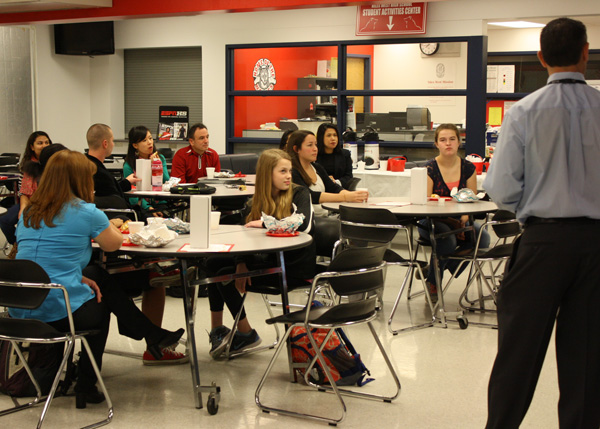 It's that time of the year at Niles West shows appreciation to  the teachers  who have made a difference in student's lives. The NWN sat down with Dr. Jason Ness to reflect upon the teachers that were nominated and why they  are important to Niles West.
NWN: What is the "you make a difference breakfast" about?
Dr. Ness: The YMAD Breakfast is exactly what the name implies – it's about recognizing those teachers who have made a difference in a student's life. The Breakfast is about appreciation, gratitude, and instilling hope in others.
NWN: Who are the nominees this year?
Dr. Ness:
Teri Langston nominated by Yara Barbosa
John Hasemeyer nominated by Dylan Stoner
Iris Yin nominated by Spencer Lopez
Jean Attig nominated by Harshil Damji
Andrew Jeter nominated by Zunair Muhammad
Dan Puglisi nominated by Matthew Mansour
Susan Arcus nominated by Claire Embil, and Haley Aichholzer
Amy Branahl nominated by Steve Mathew
Steve Grossman nominated by Tristin Minx
Lauren Flahive nominated by Maeve McCaffrey
Ruth Gleicher nominated by Sherlina Chauhan
Tatyana Gulak nominated Bronica Takieh
Jayson Foster nominated by Amil Travis
Daniel Kosiba nominated by Bao-Tran Le
NWN: How long has this event been taking place?
Dr. Ness: The Breakfast has been taking place for at least 5 years. It is especially meaningful for all the nominees because the nomination is not something that they actively seek out, it's just how our staff and student body are naturally wired to help others.
NWN: What does this award mean to the nominees?
Dr. Ness: Each student has a unique story and personal reason for their teacher nominations. Oftentimes, it's the little things in the interactions between a student-teacher that can make a big impact on someone's life. Whether it's a positive comment, encouragement, or an act as simple as a smile – all things that are free and doesn't cost us a thing. The special bond between student-teacher is what makes Niles West a special place and subsequently creates an environment of inclusion, openness, and trust for all students.
NWN: How does this event affect Niles West?
Dr. Ness: The Breakfast affects the culture and climate throughout Niles West because it perfectly encapsulates the spirit of our community. The DNA of our building is based upon a value system that is inclusive, altruistic, and progressive in its thoughts and actions. It's a wonderful way to show our appreciation for each other.