Meet Me in a Minute: Emily Cardona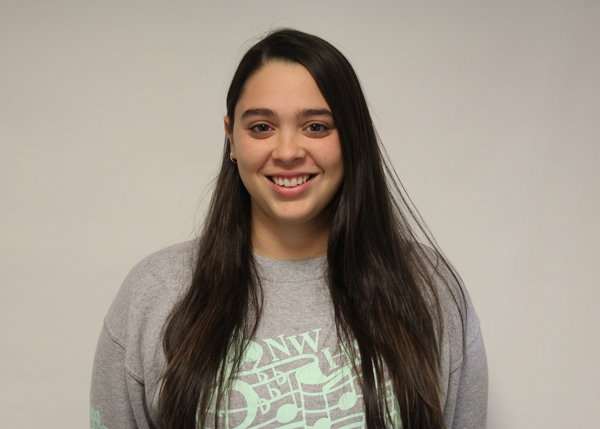 By Sarah Govis
November 21, 2014
Ever since she was young, senior Emily Cardona has been passionate about singing.
"At church when I was three or four was my first time singing and my grandma basically bribed me with a dress," Cardona said. "She said if I wanted it I had to sing in front of everyone, and I finally sang."
From there, she decided to become more involved in singing.
"I became a back-up singer for the praise band for the Hispanic Congregation at church," she said.
Last year, Cardona decided to leave orchestra in order to devote more of her time to singing.
"I wanted to be in choir since I started at Niles West, but my mom wanted me to stick with orchestra," she said. "I asked my mom if I could do choir, and I got into High Fidelity."
Cardona didn't have enough space in her schedule to participate in both orchestra and choir.
"Not having a lunch was hard, so I decided to leave orchestra for choir and take private lessons," she said.
Joining High Fidelity has been one of the highlights of her high school career.
"I love music and making cool music. When everyone hits the right note, it's so amazing. There's something great about hitting the right chord," she said.
Her mother was very supportive of her choice to switch from orchestra to choir.
"She knows how much I love singing," Cardona said. "She encouraged it and understood that I was in both, but said it was okay and she would still support me."
Her friends are also supportive of her joining choir.
"I love going to their concerts because each group sings well and I am amazed every time I hear them," senior Reyvin Reyes said. "I love seeing Emily up on stage singing in High Fidelity, and it makes me happy and proud to see her performing up there.