Grant Killian: Rising Theatre Star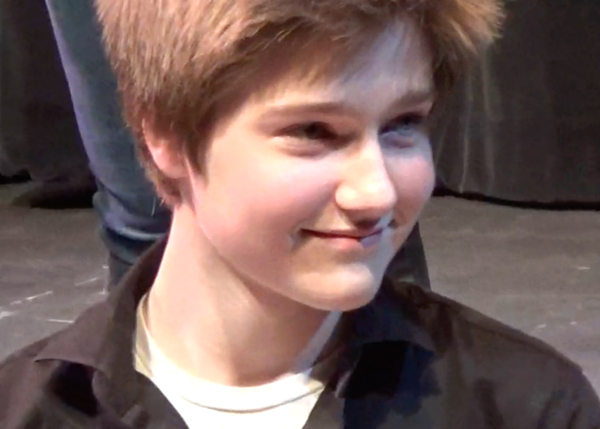 By Sarah Govis
December 16, 2014
Sophomore Grant Killian has been involved in a variety of shows even though he's only been at Niles West for a year and a half. However, he'd been acting in plays and musicals long before he started high school.
"I started when I was five at a theatre in my neighborhood called Edge of the Wood Theatre in the basement of a church. A kid on my block did theatre, and I thought it was so cool so I'm still doing it, and I've been doing it for eleven years," he said.
He started doing shows when he was very young, and it didn't come naturally to him in the beginning.
"I was in 'Charlotte's Web'. It was a 20-minute show, and I was Fern's Father," he said. "I had three lines and a lisp, and I was speeding through my lines."
He started to slowly get better at theatre, and in seventh grade, he got his first lead role.
"I got the lead in 'How to Succeed in a Business Without Really Trying'," he said. "I was Finch. I had been in eleven shows through that time."
Killian never had to take voice lessons as he was growing up.
"I was raised in musical theatre. I didn't do my first play without singing until freshman year," he said. "But I did take singing lessons freshman year. When I was cast as  the lead in 'Avenue Q', I pissed off all the seniors."
Killian found out he was cast as the lead, Princeton, minutes before he acted in another play.
"I was in another show, and I found out I was Princeton two minutes before the show," Killian said.
Although it was a big step up from the small plays he had done previously, he was excited to be a part of the play.
"I wasn't nervous — I was excited. I had never been on a stage that big before. 'Avenue Q' was a huge first for me," Killian said. "It was my first play that I had a puppet."
His friends from theatre appreciate having him around.
"There's never a dull moment when he's around. Sometimes he's too much to handle, but but he brings life to any situation," junior Elisabeth Schapmann said.