2014 Girls' Gymnastics Preview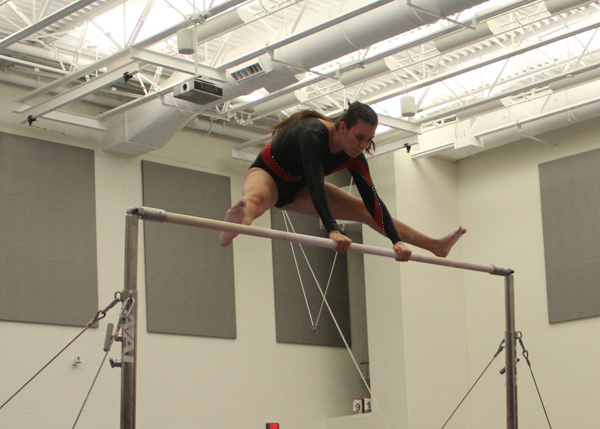 The NWN sat down with the girls' gymnastics coach, Susan Arcus, to discuss the upcoming season.
NWN: Who are your team captains or the biggest contributors to the team?
Arcus: We have three captains: Catherine Steegmueller, Emily Stangel, and Haley Melnick.Our MVP for two years has been Catherine Steegmueller. She has consistently scored the highest on every event, been all conference, and qualified for Sectionals.
NWN: What are some goals for this year?
Arcus: Our goal is to continue to grow as both a gymnast and young lady. We want each of our girls to leave at the end of season with greater confidence, ability to work as a team, grow in their understanding of others needs, and increase their gymnastics abilities.
NWN: How long and what kind of practices have the girls been going through?
Arcus: Our team practices six days a week. We have been in the gym all Thanksgiving break with three hours of practice each day.
NWN: What are the team's strengths? Weaknesses?
Arcus: Our team's strength is the amazing young ladies. It is a joy every day to come into the gym and have the opportunity to work with such amazing ladies. They are truly a joy to be around. We laugh and learn from each other every day!
Our weakness this year seems to be our health. We have been passing a nasty cold around the gym causing many girls to miss multiple days of practice to stay in bed and rest!
NWN: How did the girls do the previous year and what do you hope to take from that?
Arcus: Each year holds new challenges. Gymnastics is a very demanding sport, both mentally and physically. We have a lot of injuries that we are still trying to return from. Catherine was in a car accident that continues to cause her neck and back pain. Piper Farrell had hip surgery and has not been able to do any physical activity for six months. She has now been cleared but it will take time to get her tricks back. Haley Aichholzer broke a bone in her foot. she is back to full workouts but lost workout time while in the boot. Emily Stegich has a shoulder issue that causes her continuous pain. She is doing her best to work through it. Karina Marin has been out of gymnastics for six months as she transitioned from club to high school gymnastics. She is doing a great job. Claire Embil is also dealing with knee issues; however, she is pushing through the pain!
The girls will head to Glenbrook North on Saturday, Dec. 13 as a part of the GBN Spartan Classic at 11 a.m.
Video by Emily Stegich