The Voice of an Angel: Victoria Ogunro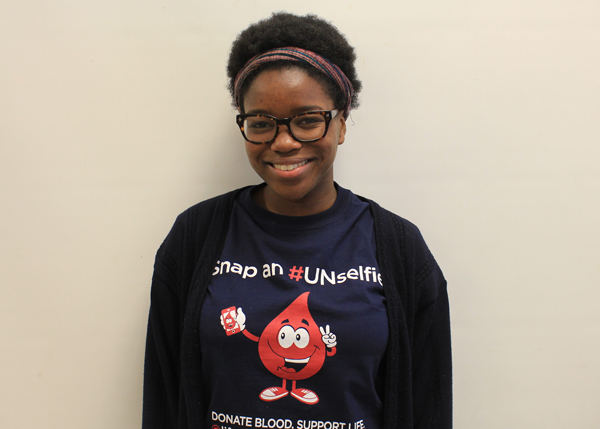 By Samantha Jahjah
December 12, 2014
The bell rings after seventh period and a cloud of joyful hymns and songs burst out of the Masters Choir room as they walk together as one. At six years old senior Victoria Ogunro recognized the pure joy she had for singing during an event through her church.
"During a church carol night I was asked to sing, 'Joyful, joyful'. I felt a burst of freedom and that's when I decided to join choir through school and church," she said.
She started to take singing seriously her freshman year when choir teacher, Amy Branahl introduced the logistics of singing through scales, sight reading, and music theory. As she continued to sing and understand the passion she had, her involvement with choir at Niles West and outside of school increased.
"I'm in Masters Choir, I was Vice President of Gospel Choir last year and have been honored with being the President of Gospel Choir this year. At my church, I am Praise Worship leader and I enjoy every moment of it," Ogunro explained.
Ogunro  describes where her inspiration comes from.
"In all honesty, The Lord is my inspiration to sing and continue with whatever I am doing in life. Gospel Choir was an opportunity to worship and minster freely and it's been a great experience," she said.
The enjoyment of singing for Ogunro  is unbearable. It's her voice, her passion, and freedom that has also changed her as a person.
"There's a lot of people that can sing, and it's such a humbling moment when you look back and see their gifts. I'm so blessed to be surrounded by a group of people with lovely abilities. It's like we're all a huge a family with an amazing support system for one another. A moment I'll never forget was when Mrs. Branahl wasn't in class and we all posted a video of us singing for her, because we missed her. Choir has definitely changed me for the best," she described.
Ogunro has been involved in a life changing experience and additionally made great achievements in Choir that she never thought would happen.
"Making IMEA felt crazy. I didn't think I'd get far. This year was my second time trying after the first attempt my Freshmen year and it was amazing. There was a mass Choir that sang beautifully, it was such an honor," Ogunro added.
While there are unforgettable moments in High School, Ogunro  plans to make more in college. She strives to follow her sister's footsteps who was the President of gospel Choir at Depaul University. She hopes to tryout for acapella groups where ever she ends us attending and wants to continue to push herself. With her hope in Christ and a determination for success, the road is ahead for this singing sensation.