Fine Arts Friday: Alex Rivera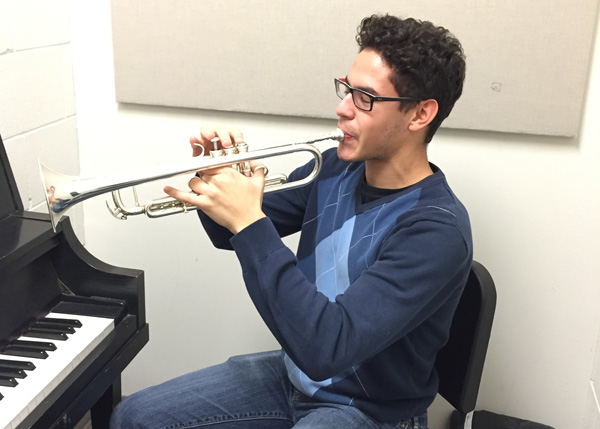 Hang on for a minute...we're trying to find some more stories you might like.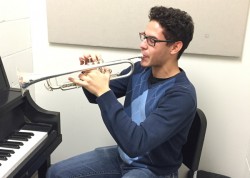 Senior Alex Rivera started playing trumpet in fourth grade at Park View school. However, he'd like to erase all but the last two years of playing from his mind– he doesn't feel he started playing well enough for his own high standards until his junior year of high school.
Now eight years into his trumpet career, Rivera has grown as a musician and as a person. In addition to being a member of Niles West's top band, orchestra, marching band and holding the lead trumpet spot in jazz band, Rivera has recently garnered many musical achievements including being selected to play in the Ball State Honors band, the north shore honors band and trying out for and making the 2014 IMEA jazz festival. In recognition for his hard work and subsequent growth as a trumpet player, Rivera was also honored at the most recent principal's recognition breakfast by band director Justin Johnson.
"I would have never thought that I would win something like this," Rivera said. "It's kind of hard to explain because sophomore year I…sucked(laughs). My range was very limited, I couldn't play very high and I had no control," he added.
Rivera credits his substantial growth to the effective instruction he's received from Johnson. "The last couple years, all of the techniques and the way mr Johnson taught me has helped me a lot. I guess the level of growth that I had through these two years is what got me here," he said.
Though he does not plan to pursue a professional career in music, Rivera is certain he'd like to keep it an instrumental part of his life. "Even though I want to pursue a career in civil engineering, I want to continue playing my trumpet on the side. Maybe play in college band or marching band, just like I do now."
Rivera's top choices include the University of Illinois and Purdue, both of which will offer him opportunities to excel as an engineer and as a musician.