Reyes A Semifinalist For The Intel STS Competition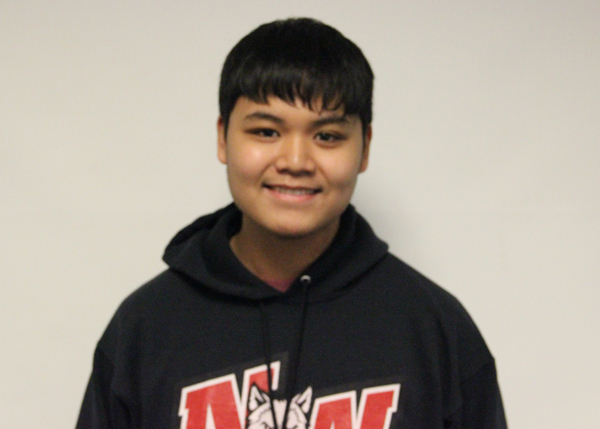 Three years ago, Felix Angelov was selected as an Intel Semifinalist and was one of seventeen students to win best Best in Category at the Intel ISEF competition. This year, senior Reyvin Reyes is a semifinalist for his research project on the Synthesis of Colin M Using Cell-Free Protein Synthesis. Reyes is a part of a course here at Niles West called STEM Inquiry and Research, or SIR.
 Reyes's project involved trying to make colicin M, which is a type of protein that kills bacteria using a method called cell-free protein synthesis (CFPS). Usually, researchers use bacteria to make a protein that they want, but this becomes a problem in creating proteins like colicin M because of its properties. He wanted to find out how someone can use bacteria to produce something that kills bacteria. If someone tries to make a protein like colicin M, they would kill the bacteria they're using to produce the protein. This becomes very inefficient and a new method is needed.
 In his project, Reyes used a new process, CFPS, which bypassed these problems and tried to see if he could successfully produce colicin M while still keeping its properties. Fortunately, the method worked and he was able to produce colicin M.
With his project, he was able to see that he could make these "antibiotic" proteins with a new method and he also used it to see if the protein actually worked and killed bacteria, which it did.
 Most research projects goes through a similar process. First is either asking a question or getting an idea, then researching the topic, and then creating an experiment from it.
"I first became interested in antibiotics and bacteria during sophomore year when I conducted another research project involving these topics," Reyes explained. "During junior year, I wanted to continue with bacteria but could not find a project. Luckily, I was paired up with a mentor from Northwestern in our mentoring program who specialized in CFPS. He told me I can pretty much make whatever protein I wanted and I combined the two ideas together: using CFPS to synthesize a protein that can be used as an antibiotic."
 Besides being involved in science, Reyes is one of the presidents of Filipino Club, a member of Dance Marathon, Math Team, Science Olympiad, and Camping Club. He is also a tutor at the Lit Center. He does want to go to college and right now, he is really hoping to get into Northwestern University. As for his area of study, he plans to focus into either biochemistry or cellular and molecular biology with goals of becoming a scientific researcher in the future. "When I go to conduct my research at my mentor's lab,' he said, "I see how being a researcher is like. I think what researchers do is perfect for me and my interests."
 There is a lot more to this competition than just a good title on a resume or college application. For this competition, Reyvin has already won prize money and they also give Niles West prize money, as well. Last year, Reyes was also chosen to go to Los Angeles to present his project at the Intel International Science and Engineering Fair. He won a 4th Grand Award in the category Cellular and Molecular Biology.
"I couldn't believe I accomplished something like this. I never saw myself winning awards and dwelling in the realm of science when I entered high school but I am very grateful that I took the chance and followed through. It feels really great being acknowledged but I could've never done it without my teachers and my mentors that helped me along the way, so I thank them for all of their help and support."
 One of the people that helped Reyes is Stem Inquiry & Research instructor JulieAnn Villa, who also happened to have him as a student in her honors chemistry class and has known him for three years.
"The thing that is unique about it is that many students have an opportunity to work with a mentor, it's the individual initiative that Reyvin has shown with this project that really impresses me," Villa said. 'I haven't been teaching him about this project, it's been pure research on his part."