Andy Gonzalez: A Passion for Fashion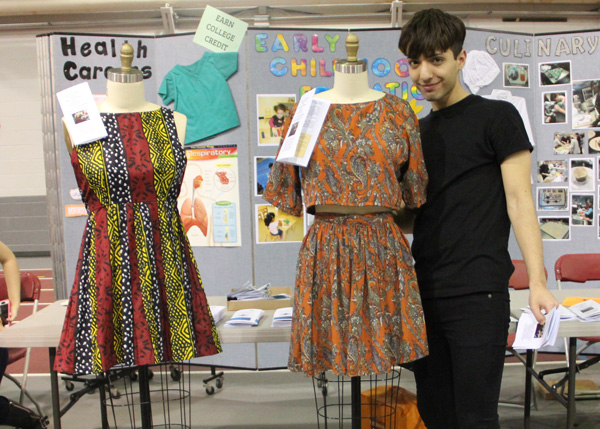 By Sarah Govis
January 27, 2015
[youtube]https://youtu.be/fc0PsFaRWwA[/youtube]
Junior Andy Gonzalez has been involved in fashion and singing since he was very young. His love of fashion started many years ago, when he was in elementary school.
"I always knew I had an interest but I knew I loved it when I went on Style.com and watched their fashion show archives. After that I fell in love with it and how happy it made me," Gonzalez said.
He hopes to pursue fashion beyond high school and hopefully make it into a career.
"I like to design, but I also want to do more than that," Gonzalez said. "I got an e-mail earlier this week that I met the Fashion Institute of Design and Merchandising's requirements, and I'm eligible to apply as a junior. So that's exciting."
Many of his friends believe that his fashion career will be successful in the future.
"His career got started this summer when he looked into schools and creating his own designs. The last time we talked I knew he was interested in FIDM and I support him all the way," junior Sara Dym said. "He also did the school's fashion show with this amazing dress his grandmother helped him with. I won't be shocked to see his work thriving throughout the fashion industry."
He has also looked into many other colleges to go further with fashion.
"My dream school is definitely the Fashion Institute of Technology or Parsons. They're both competitive schools, but I love a little competition!" he said.
While right now he wants to go into fashion, he also still has a huge passion for singing.
"I would love to continue with music, but probably independently," he said. "I don't see myself going to school for it or pursuing it as a career. Making music and singing will always be a passion of mine."
During the summer of 2014, Gonzalez took to Twitter to reveal that he was gay.
"I did it through Twitter because it was the only way I could let all the people I know to know. I wanted everyone to find out at once than just being asked many times," he said. "It's tiresome to tell people all day long about your sexual orientation. You don't ask people if they're straight, do you?"
Dym was very supportive of him coming out.
"I wasn't surprised when he came out. He told me after our summer break. I was so excited to hear about it and how he finally got to show off his fun side with the rest of the world," Dym said.
However, his parents approached him about being gay instead of him coming to his parents first.
"I was just asked by them randomly, and I said yes! I was very lucky to have such supportive and accepting parents," Gonzalez said. "I know a lot of LGBT+ kids don't have the same support."
Dym has been friends with Gonzalez for many years since elementary school, and since then, they have become best friends.
"I have to be honest — in the second grade I had a crush on Andy. Ever since then we were like brother and sister," she said. "He's a very bright and brilliant person to be around."
Video by Katrina Nickell.