Olivia Schmidt: Passion Never Dies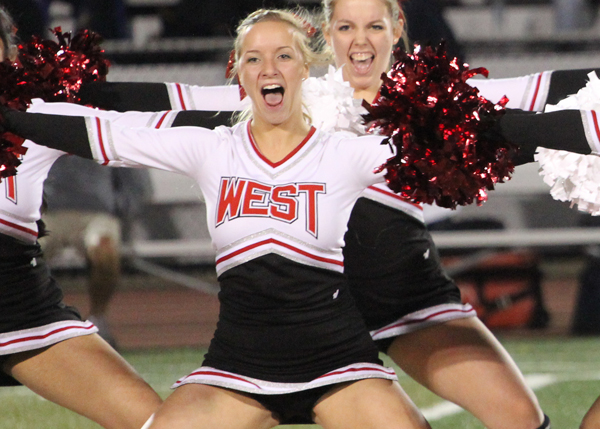 Although senior Olivia Schmidt might make performing look easy, she gets her talent from years of hard work in dance classes and Niles West Poms.
Starting by taking a dance class in kindergarten, Schmidt has now worked her way up to becoming captain of the Poms team, but she never lets herself forget where it all started: back at home with her Grandma.
"I have been dancing ever since I was little. It runs in the family. My grandma was a professional ballerina, my mom danced into her late thirties and my sister danced as well. My Grandma even taught my first ballet class!" Schmidt said.
Although she started dancing at a young age, it wasn't until middle school that Schmidt became a student at Dance Center of Evanston, a superb and distinguished dance studio.
"Up until seventh grade, I danced casually. Finally my grandma convinced me to take it more seriously and I began taking classes at Dance Center of Evanston," she said. "I took six classes a week: one modern class, one jazz class, and four ballet classes."
Studying to be a dancer in Evanston is not easy. Dance Center of Evanston has a strict set of rules and courses made to challenge their dancers and hopefully lead them to professional dance. They are well known for producing many well-trained dancers and many DCE students strive to one-day become part of the professional dancing world.
"Alot of the girls at Evanston made dance their lives. Classes were very competitive because a lot of the girls were fighting for the same goal, a career in dance. It made it hard. I felt like I was constantly competing even though being a professional was never one of my goals. I danced for fun," Schmidt said.
Besides the vigorous dance courses, Olivia is involved in many other activities, including National Honor Society, French Honor Society, peer leaders, and many honors and AP classes.
Around sophomore year, all of the things she had going on finally caught up to her. After a lot of thinking, Schmidt decided to limit her dancing so that she could focus more on school and college.
"A typical day for me was school, poms/orchesis, multiple hours of dance, homework, sleep. Although, I enjoyed the workout it became a lot to handle. It was hard to enjoy and engage myself into all the activities fully because I had so much going on," Schmidt explained.
Although Schmidt had a lot of different things on her hands, her friends and teammates were always there to support and motivate her including junior pommer and DCE dancer, Kate Jinakunwiphat.
"Olivia is one of our hardest workers. Even if she was tired or not feeling well, she would always come to dance class and give her full effort. She was focused, but could have fun too. Even on poms, she always puts the team before herself," she said.
"I was stressed out all the time. It was hard to enjoy my activities when I was constantly busy. I knew that with the ACT and visiting colleges junior year, I wouldn't be able to handle everything. I knew something had to go," Schmidt said. "Dance is something I loved doing but Dance Center of Evanston was too intense for what I needed from dancing. I made a pros and cons list of the good and bad about DCE and it helped me come to the conclusion to quit."
Luckily for Schmidt, her family was very supportive and she continued to find ways to keep dance in her life.
"A few months after quitting, I began to miss dancing again, so over the summer I began to take occasional summer classes. It was also difficult not having the bonding time that me and my Grandma had before during dance class, but we still attend the Joffrey Ballet together all the time," she explained.
Poms was another way Schmidt was able to keep dance in her life. This is her second year being a Varsity captain and with their upcoming national competition in Orlando, Florida from January 30th-February 2nd, the girls have a lot of hard work ahead of them. Coach Alex Bedoya is glad to have such a strong leader on the team to help keep the girls motivated.
"I've known Olivia for three years now and she makes a great captain. Aside from working hard and always giving her 100%, she is really respected among the girls, she can make objective decisions, and she's good at taking people's feelings into consideration," Bedoya said.  "As a captain, those are important qualities to have."