Niles North Basketball Team Withdraws from State Playoffs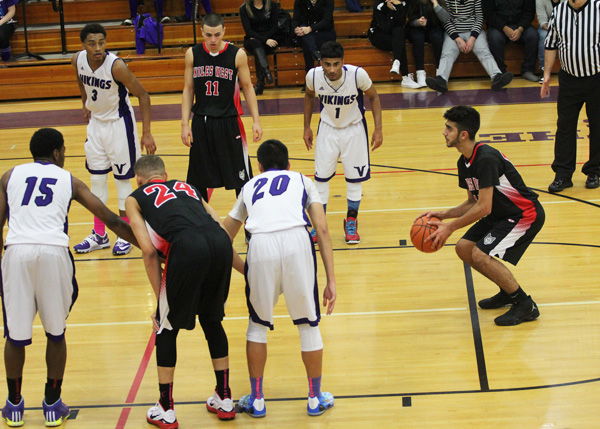 By Kaylee Robinson
March 12, 2015
The Niles North Boys Varsity basketball team was withdrawn from the IHSA State Playoffs last week after district officials self reported an eligibility issue with one of its players.
The District 219 Residency Office informed head coach Glenn Olson and his team that a member of their program no longer lived within the residency boundaries of Niles North High School, according to a statement the district released last week.
This is a violation of the IHSA rules that have been in place for years. Within 1o days, the student will have to be withdrawn from Niles North High School, according to the statement.
After such a successful season, with a record of 21-9 in the regular season and 1-0 in the playoffs, the news was devastating to team members.
A member of the team who wishes to remain anonymous said, "It's messed up, it really is, we worked our butts off all season for this and it was taken away from us, but my brothers and I will come back stronger and hungrier next year."
Students at Niles North who had high hopes for the team's advancement in the playoffs were similarly disappointed.
"I just felt like it was bad timing. Everyone was so excited to play Stevenson especially since they're ranked so high in the state. It was shocking, but things happen and all we have to do is come back stronger next season," Niles North junior and girls varsity vasketball player Stephanie Donado said.
"As you can imagine, our players and coaches are devastated," Niles North principal Ryan McTague said in a statement. "However, they are a strong family with an amazing leader in Coach Glenn Olson and they should be proud of their accomplishments this season. It is critical that as a school community we support our Boys Basketball family during this difficult time. None of this was their fault."
"I think it's really messed up that something like this was taken away from them. But next year, they just have to show people that they are a winning type of team. Good luck to them in the next upcoming season that lies ahead,"  junior Jojo Rios, captain of the Niles West Varsity Boys Basketball team said.
Niles West Head Coach Bob Williams said that he teaches his boys to work hard and to carry themselves with pride and to always try and do the right thing.
"I would hope something like this would never happen at Niles West," he said. "We really work hard as a team and struggle as a team. We talk about integrity and always doing the right things."
As a result of their withdrawal, Zion Benton High School advanced to the playoffs in the IHSA state playoffs instead of Niles North. At the end of the 4th quarter, Stevenson High school took the victory of Zion Benton with the final score of 84-60.