Fine Arts Friday: Ray Nguyen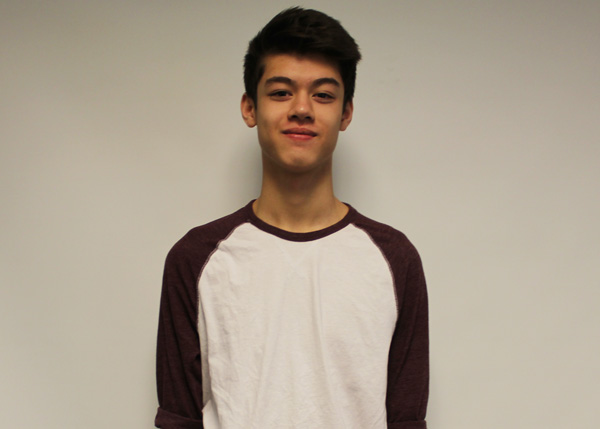 By Sarah Govis
February 13, 2015
During seventh grade, junior Ray Nguyen started dancing, inspired by an uncle.
"I started dancing around the seventh grade. I was first inspired by my uncle because he was in a Chicago crew called Brick Headz that specialized in break dancing," he said.
After this, he slowly started becoming interested in other forms of dance.
"I first started off with break dancing, but then I fell in love with hip hop," he said.
He started dancing more seriously once he entered high school.
"I've been in Orchesis since freshman year," he said. "That was when I met another person who inspired me. He had just graduated when I was a freshman. He was the reason I had auditioned for the group outside of school, C.O.D.A. — he was one of the leading directors."
The dance group he works with outside of school is much different than Orchesis.
"It's very different from Orchesis because the speed at which the choreography is taught is at a higher level," he said. "It's a competing group, so I can't really expect anything less."
While he enjoys dancing, he isn't sure he wants to continue beyond college.
"I definitely do want to keep dancing in college, but I don't know about a career. It's tough," Nguyen said.
His friends are glad to have him on Orchesis.
"Having Ray in Orchesis is both an inspiration and a blessing," junior Alex Gruezo said. "His dancing is far beyond Orchesis alone. Whenever he presents a piece, they leave our jaws to the floor."
He is a great asset to the team because of how advanced his dance skills are.
"He's one of the people that picks up the choreography the quickest, and whenever we need help, we go straight to him. Once you get to know him, he's that guy that whenever you joke around, he had you dying in two seconds," Gruezo said.
His energy is appreciated by everyone on Orchesis.
"He's really funny and talented and has such an amazing personality," junior Michael Nguyen said. "It's fun to have him in Orchesis because he's so entertaining and always has these random burst of energy."