Meet Me in a Minute International Week: Sophia Agos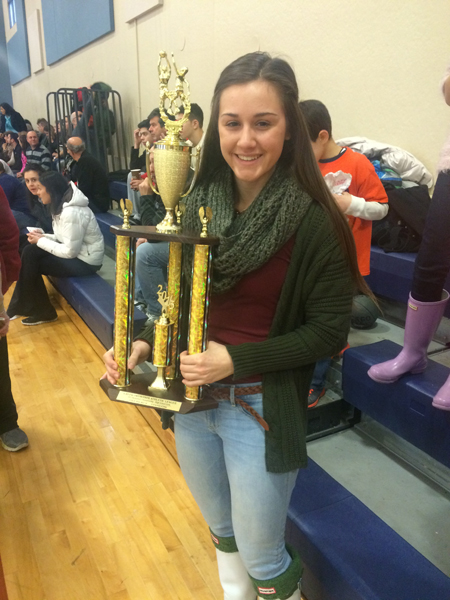 By Katrina Nickell
February 16, 2015
You see her around the hallways everyday, on and off the soccer field. Odds are when you don't see her, she is somewhere around church or with family– two of the biggest factors in her life.
Senior Sophia Agos is a proud representative of the Greek Orthodox faith here at Niles West.
"We're just proud of our religion. We talk about these things all the times in our youth group, with our family and how much we can all relate," Agos said.
Some of Agos' involvement with her heritage and church involve playing on the high school girls basketball team for St. Demetrios, attending her church youth group and being a Sunday school teacher for pre-k.
"We always are told to do certain things like fasting, that just helps with our religion but sometimes affects me in a good way," she said. "Holidays like Easter are always celebrated with family and going to church. Easter is definitely one of the most important. Everyone comes together and just enjoys being with each other."
Luckily, with Niles West's diverse community and welcoming of all faiths and ethnic groups, Agos has discovered kids don't stereotype her for her nationality or religion, but embrace it and are always fascinated.
"People are more welcome to it. It's more of a new discovery and cool thing when you tell them about it," Agos said, "like Catholics always have different times and days they can go to church but for us it's always the same time, same day. When we tell people these things they just find it weird because it's so different than theirs."
While Agos is one to always have something to share, it is hard for her to come up with words on how to describe how prideful of her faith she is.
"I'm proud because you just see so many people you grow up with, and you learn so much about each other. You realize how proud you are of your religion and we are so prideful to talk about how loving we are to God and each other," Agos said.
Agos has the full understanding of how much her faith of Greek Orthodoxy consumes of her life. It is something that has been apart of her forever and she would never change that. She knows that there will always be a place for her in life, and she will have people who relate to her in ways others cannot.