Q & A with Niles West Theatre's Sherlina Chauhan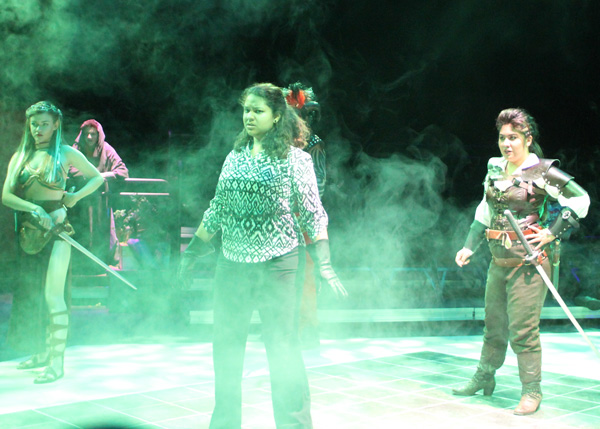 The NWN had the chance to talk to with senior Sherlina Chauhan, a four-year veteran of Niles West Theatre, who is preparing for her last performance in the Black Box Theatre. Chauhan will appear as a cast member in "On The Razzle," which runs from Feb. 26-Feb. 28.
 NWN: Why did you decide to join Niles West's theatre department?
 Chauhan: "I've enjoyed performing since I was little. I had been doing it in church and in a library program over the summer and at school. I knew that's what I wanted to continue, especially since I knew that Niles West theatre had such a good reputation. I knew that I was going to do quality work."
NWN: How long have you been in theatre?
 Chauhan: Since my first show of my freshman year season.
 NWN: What was your first show in the Black Box theatre like?
 Chauhan: My first show that I was in, I was on running crew. During the show, there are a few crew members backstage, and they help with transitions between scenes and moving things. I got to press the smoke machine button. That was my first experience during the show. It was really fun backstage because I made lots of the stuff happen on stage. My first performance was Taming of the Shrew. It's a Shakespeare play. I was a servant and in the ensemble. It was really fun because Mr. Sinclair doesn't give you one small part and just leave you. He will fit you into other things in the show. There are dance sequences or running around happening.
 NWN: How is performing in the Black Box different from the auditorium?
 Chauhan: First of all, it is so cool that the audience is so close to us. I like having the audience so close. Acting there as opposed to a proscenium stage felt very intimate. I felt like I needed to be in character 24/7 because they can literally see you and what you're doing at any point. You couldn't hide or rest for a second–not that you should on any stage–but it was very involved.
 NWN: Do you prefer performing in one or the other? If so, why?
 Chauhan: Yes! Black Box, 100%. First of all, as an actress you can hear them laugh next to you. You can hear their responses. It's so close. It's all around you. If you need something to fuel you to give you energy for the scene, you can take in what the audience gives you. If they're laughing or you hear someone go 'woah', it helps raise the conflict and helps you as a character move the story along in a way. And in the auditorium, it feels less connected. You're here and they're there. You can see them but it's so dark and you're supposed to look up. There's a different way of acting. You're supposed to always be big, but for the intimate shows that we do, there's more room for personal acting in the Black Box. Also as an audience member, the Black Box is better for sure. Experiencing theatre that close to you is powerful.
 NWN: What is the upcoming show about?
 Chauhan: It's called 'On the Razzle.' It is a classic farce. The owner of a grocery store goes to Vienna to take his fiancée out to a fancy dinner, and while that is happening there are lots of side stories and comedy. For example, there's this young lady who wants to get married to this guy but she's not allowed to. The two main characters go on an adventure of their own. There's stuff about mistaken identities, and there are lots of puns. It's a comedy.
 NWN: Who are you playing in this show?
 Chauhan: I play a Belgian foreigner. My character is a messenger kind of person who collects debt. He has some very important news that he has to deliver to one of the characters, but I can't tell you what that is because people need to go watch the show!
 NWN: How does it feel, as a senior, to perform for the very last time in the Black Box?
 Chauhan: I'm very sentimental, and the Black Box is so special to me. There are going to be tears. It makes me feel like 'Yo, I need to own this' because this is the last chance to do this. Being around my other senior friends who are feeling the same way brings out a different kind of energy in the room. I'm so excited and happy that I'm cast in it and I will get to perform in this last Black Box show. The next one is in the auditorium, which is cool too, but this is where it's at. This is where my theatre soul resides. I'm feeling sentimental and emotional!
 NWN: What is your most memorable moment in theatre or your favorite production?
 Chauhan: Wow, there are so many. I'm going to pick one and this is in the top. Two years ago, we did 'Joseph and the Amazing Technicolor Dreamcoat.' That's a musical. I was in the ensemble for that, and I was the baker. That was my favorite show to perform because it was so much fun. At the end of all the performances, we did this big dance routine, and it was called the megamix. It was parts of each song from the whole show put together. It was this long eight-minute dance. I'm not fit so I was struggling through that thing, but it was so much fun. At the end of each of the megamixes through the five performances when we got to the point when we stood still, the curtain closed and we ran to get off stage so we could change. I don't know if I have been more tired in my life. I was exhausted from sweating and dancing and singing but in the best way possible. We just put on such a good show. People are enjoying it. I feel so good because I had so much fun doing it. The tiredness and exhaustion that's there is redeeming. It feels like a reward. I am feeling this tired because I just did something really awesome. As tired as I was, it made me more happy. I'm not going to forget that."
Further details on the performances can be found at http://www.nileswesttheatre.com/2014—2015-season.html.