West Theatre to Perform 'On the Razzle' Starting Today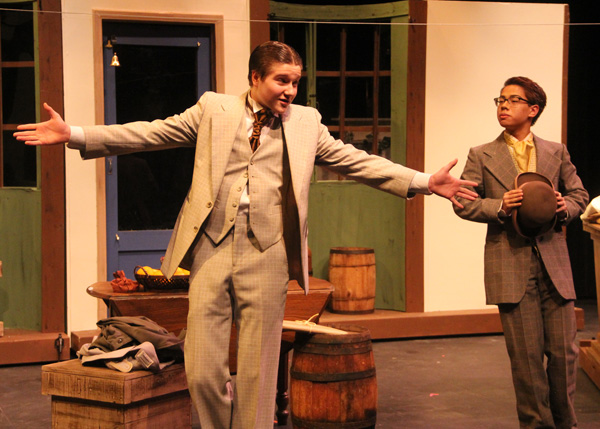 Niles West's theatre department is showcasing "On the Razzle" in the Black Box theater on Feb. 26, 27, and 28.
This light-hearted comedy has about 25 cast members and about 30 crew member, theatre director Andrew Sinclair said.
"It is quick, it is fast, it is funny. It's one of those shows that leaves a smile on your face and you'll giggle at things that are slightly inappropriate but in a wonderful, comedic way," he said.
Sinclair explained that this show is about two shop clerks that go into town one day while trying to avoid their boss. These two expected their little excursion just to be an experience in the town but it turns into a crazy adventure for them.
Cast member Andre Eramia said after being in 23 shows, having a lead in this one does not make him nervous.
"I have gotten used to it. Although, it is more nerve wrecking when I know certain people are coming. The general audience does not really bother me anymore," he said.
Eramia and fellow cast member Julia Nejman both agreed that West's theatre program is filled with a tremendous amount of professionalism from adults to students.
"I am really excited! This is a role I've never played before. It is different and fun. I really enjoy the amount of professionalism everyone has and that Sinclair treats us as adults and not like students," Nejman said..
"On the Razzle" debuts today at 10 a.m. as a free community performance. The show will also be performed at 4 p.m. and 7:30 p.m. on Friday and Saturday.  Tickets are $10 for adults and $7 for students, children, and senior citizens.