Poetry Day To be Held Tomorrow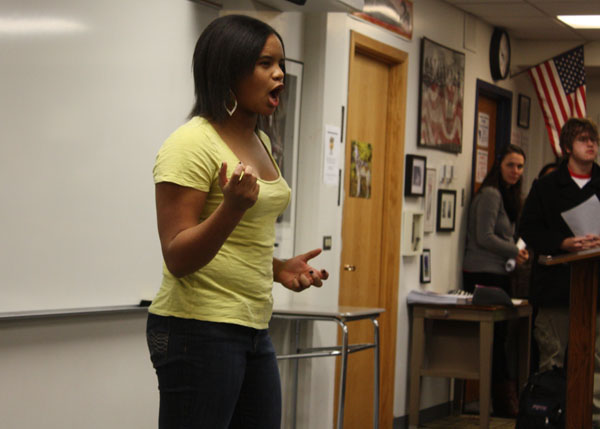 By Duaa Israr
March 5, 2015
For the first time in over ten years, Niles West will be holding Poetry Day on Friday, Mar. 6 in the black box theatre. While Poetry Day is normally held in April to honor National Poetry Month, the new calendar changes have caused the event to be moved up one month.
"We have honored National Poetry Month, which is in April, by bringing in a professional poet and/or having student poets perform for over ten years.  We are doing it in March this year due to scheduling issues," said English teacher Dana DesJardins.
Poetry Day is a highly celebrated event at Niles West. National Poetry Slam Champions and published poets are invited to Niles West and perform in the black box theatre.
"We have had the National Poet Laureate here (Billy Collins, before he was Laureate in 2001), as well as poets published in the Norton Anthology of Poetry and National Slam Champions like Marc Smith and Lisa Buscani," said DesJardins.
Local leaders in the teen slam movement such as Kevin Coval, Robbie Q, and Roger Bonair-Agard have also been invited in the previous years.
"We decided to start this tradition because, as poet William Carlos Williams says, while 'it is difficult to get the news from poems, men die miserably every day for lack of what is found there.' Our students write poetry themselves and seem to love to listen to it, whether they call it rap or hip hop or poetry.  Words are sometimes the only tools — and weapons — we have," said DesJardins.
Teachers have signed up to bring their classes when it fits their schedules. Niles West's award winning slam team, A Tribe Called West, will perform for six periods, sponsored by English teacher Paul Bellwoar.
"We expect about about 760+ students to attend. Award winning slam poet Adam Gottlieb, featured in the film Louder than a Bomb,' DesJardins explained, "will perform period 6-7 and lead a poetry workshop period 9."