Fine Arts Friday: Caitlyn Beutelspacher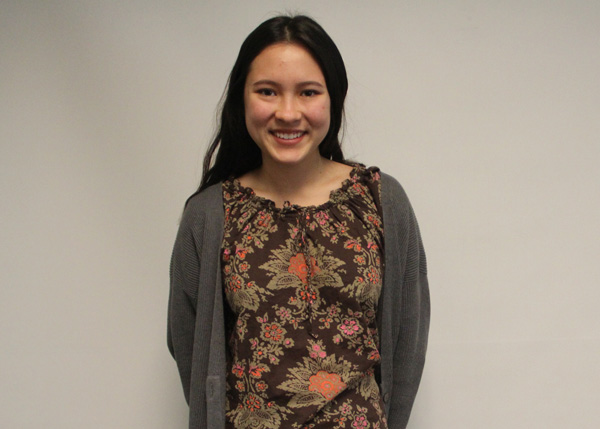 By Sarah Govis
March 6, 2015
Junior Caitlyn Beutelspacher dances with grace as she prepares for the upcoming Orchesis recital. As the dance team practices, a softball player throws a ball against the wall by the dance studio, startling several of the members. The entire group erupts into laughter, and the bond these dancers share is evident.
Beutelspacher first started dance as a child, when her parents forced her to take classes.
"My parents forced me to go to this dance class that I hated," she says. "I had no friends."
The class never grew on her, and she eventually quit a few years later.
"It was a ballet class and contemporary class. But I switched around to a bunch of different dance studios and I liked some, I guess. But finally, I quit. They were too intense and I just wanted to chill out," she explained.
Once she entered high school, she was inspired to join dance again. She was one of only two freshmen on the team at the time.
"I quit taking dance classes freshman year, so by that time I was already on Orchesis," she said. "It was a lot of fun, especially with the people and the show."
While she enjoyed most of the dance team, there were dances she still disliked.
"It was pretty relaxed, except I hated doing hip hop," Beutelspacher added. "I looked like a freak flopping around everywhere."
Beutelspacher was glad she joined because it renewed her love for dance.
"Everyone was really nice, and it was really fun during the week of the show," she says.
Although she loves dance, she doesn't intend on pursuing it beyond high school.
"It's a lot of work, and you have to be really passionate about it if you want to do it. I'm a lot more interested in other things. So I figured I'd do it in high school because why not."
Along with dance, she is also a part of orchestra and has been ever since the fourth grade.
"In the fourth grade, everyone got to choose what instrument they wanted to play. I chose the viola because everyone either chose the cello or the violin," she said. "I wanted to do my thing, so I chose the viola."
Beutelspacher to this day still marches to the beat of her own drum. She is very inspired by the 1960s and 1970s era. Her style is clearly inspired by hippies.
"My dad was always a big fan of music from the 60s and 70s, so I always liked music from that 'era' I guess. I suppose it started when I actually had money to buy my own clothes. I would always steal clothing from my mom and dad until they got annoyed," she explained. "I just buy my own stuff from thrift stores and stuff because who has time for pricey clothes?"
She hopes that whatever she chooses to pursue in life will involve working with animals or helping the environment.
"I really want to do something that involves saving animals or helping the environment. Anything involving helping people or animals or nature would make me content. Or travelling, because I don't want to stay in one place."
Her close friends love being friends with her because of how different she is.
"We're complete opposites when it comes to things like music and clothing. Yet we love the same things at the same time. We introduce each other to new things, and she has the best sense of humor. We can always make each other laugh, and we're never bored together," junior Elizabeth Clair said. "It's like we're a couple, but we're not."