Valentina Zadro: Passionate Artist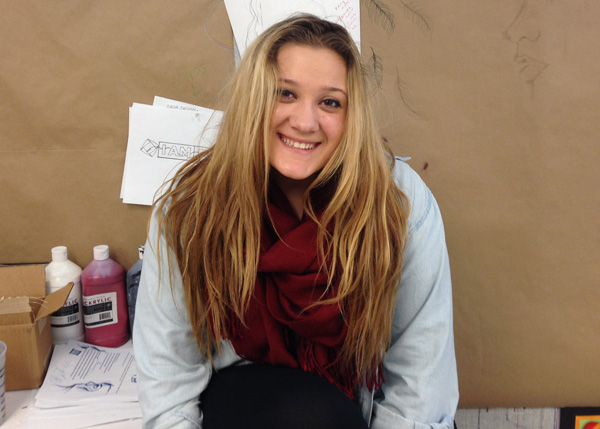 Senior Valentina Zadro has undoubtedly contributed to the fine arts department here at West throughout the past four years. Whether this be through art in Art Honors Society or music in the variety show, she's made her mark on the department.
Extra curricular wise she's consistently been a part of Dance Marathon and National Art Honors Society. Given her impassioned commitment to art, she favors AHS the most.
"I would have to say both are great extra curricular activities. I favor AHS just because it's a good way to spread information about the art programs at West around the school. It is also a great way to tie our community and art programs at West together," she said.
Art has played a large role in her life, and consequently, her passionate drive for art early on led her to her participation and success in high school.
"As cliche as it sounds, I was the little kid getting yelled at by their parent's for drawing on the living room walls. I came into high school with the intentions of going straight into art classes. I started in foundations, and then by junior year I was in AP Studio Art. Mr. Z has helped me find my strengths and weaknesses and overall helped me shape into the artist I am today," Zadro explained.
Aside from art, Zadro has also found interest, and an outlet, in music. She recently performed in Niles West's variety show in February.
"I've had many things impact me throughout high school, but one of the larger, more positive impacts would have to be music. Music was one of the things that got me through a lot of hardships throughout high school. I can currently play seven instruments, and it has definitely been one of those things that will stay with me forever. It was, and still is, a great motivator for me- whether I'm listening, playing, singing, writing my own music, or working out to it; it has gotten me through a lot of obstacles in my life."
She plans on continuing in a tangential field, architecture, when she goes to college next year. But since there's still time before college commitment day, she isn't set on where she'll be going just yet.
"I plan on majoring in architecture at Michigan State University or UIC, I'm still deciding on which college I want to commit to!"
Peers and friends agree her talent is undeniable and that her character inspires them as well.
"She's definitely influenced me in art. She always encourages me with my art and she's so helpful! Val's always there to critique my pieces and tell me what I need to add that would enhance the overall composition of my work," senior Stephanie Nahhas said. "She's an amazing artist, who's talented in so different mediums."
"She's a very creative person and it shows through her many talents. Her art work is beautiful, and she is a well-rounded person who can create art and also sing beautifully. in addition to playing several instruments," senior Atorena Michael added.
"She's a very reliable friend and somebody I can always count on," senior Julia Easter said.
[nggallery id=392 template=galleryview]