Fine Arts Friday: Kristin Recinto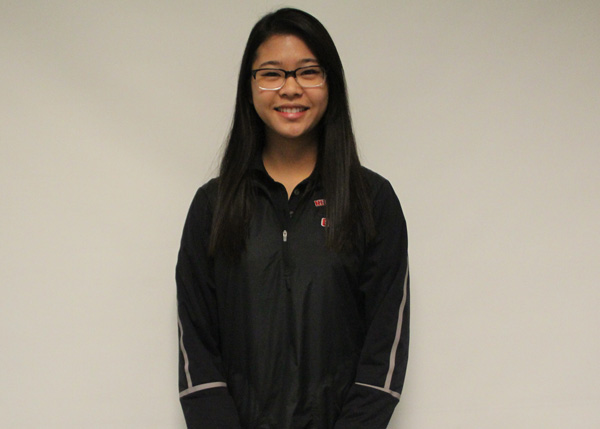 By Sarah Govis
March 20, 2015
Junior Kristin Recinto has been passionate about music since she was very young, when her parents started making her go to piano lessons.
"I started piano when I was three, so I couldn't really voice my opinion," Recinto said. "My parents thought it would be good for me, and I kept going with it."
After this, she was inspired to try different instruments from family members and friends.
"I started violin in the fourth grade because that's when everyone else started playing an instrument at school. I chose violin because I wanted to be like my uncle, Martin Arago, who is a Parkview and Niles West alum," she said. "I started singing because one of my best friends started taking voice lessons and I thought it was really cool. It's also a Filipino thing to sing karaoke at almost every party, so might as well be prepared."
Even though she has tried a variety of other activities, music is the one thing she has stuck with since her childhood.
"I've been so accustomed to having music as a part of my life that it's really not possible for me to let go. I've done so many other things like ice skating, taekwondo, and dancing, but music was always the part that stayed," she said.
Although music plays such a huge role in her life, she does not intend to pursue it as a major in college or as a career.
"Even though I love music so much, I don't see it as a career. I do plan on having a minor in music though for voice," Recinto said.
Although she plays three different instruments, her favorite thing is being able to sing. Her hard work as a singer led her to the accomplishment of making the All-State choir this year.
"Singing is portable! I can bring it with me anywhere I go," she said. "When I'm in the car, I can't just whip out a violin, guitar, or piano."
Her close friends enjoy her constant happiness and energy that spreads easily.
"Kristin is that person who's always so happy that even though it can be frightening, it always puts a smile on my face. She's like a ball of excitement that always explodes," sophomore and close friend Amanda Lee said.
Recinto's friends love how talented she is as well.
"She always knows how to put a smile on my face. I can count on her to make any bad day good. We've been friends since first grade so I know she always has my back," junior Roshni Shah said. "She never seizes to amaze me with her talent. It's honestly so incredible and she doesn't get enough credit for it. She's a great singer and I've lost track of how many instruments she can play. All in all, she's such a nice, humble girl and I'm so grateful to have her in my life."