Niles West Athletes Sign Letters of Intent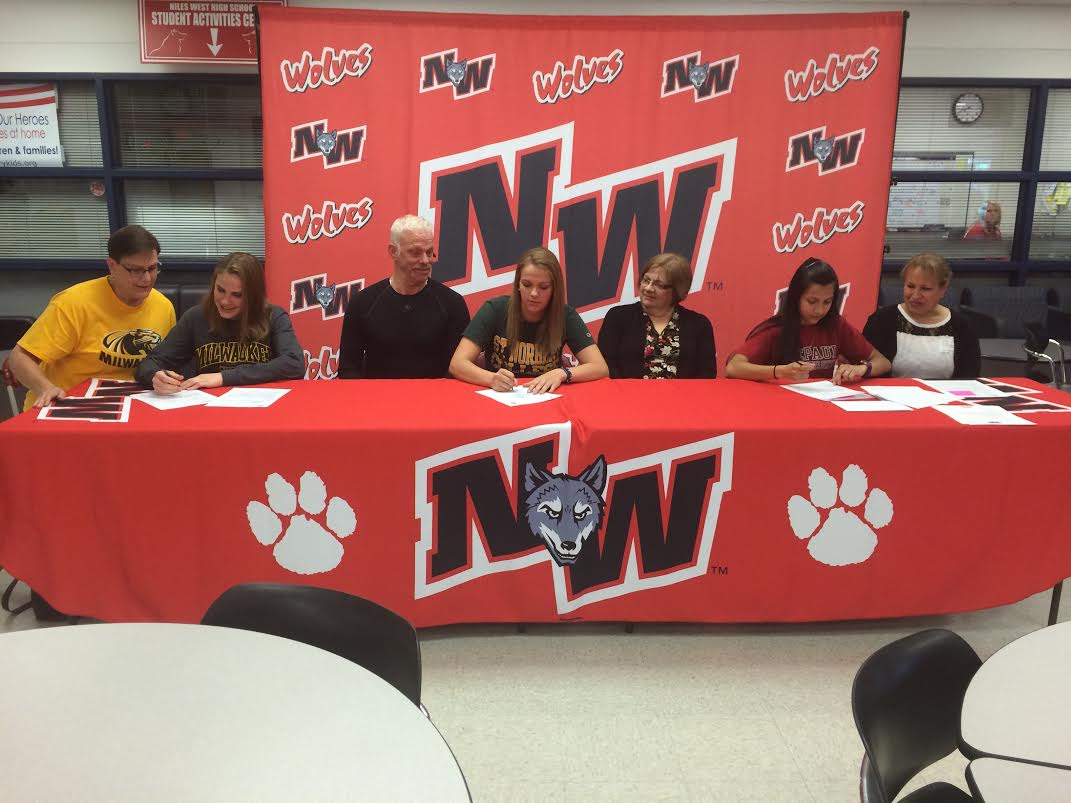 By Katrina Nickell
April 15, 2015
Three Niles West seniors have signed their letters of intent today to continue their athletic careers at the collegiate level.
Emma Helgeson has committed to University of Wisconsin- Milwaukee where she will be swimming. "I'm so excited and can't wait! I am happy to have spent my four years of swimming with my closest possible friends and the best coach and best opportunities," she said.
Girls varsity swimming coach Jason Macejak is proud to have someone like Emma be given the opportunity to swim in college. "She will be leaving her footprints in two major ways here at Niles West. One, if you look at the pool record boards she is all over them. She is all over it for the frosh/soph records and the varsity level. She is also our second all-state athlete for swimming at Niles West. She's not only a talented athlete but it's great when that talent goes to someone as nice, hardworking and sweet as her. She's a friend to everyone. I know she's going to do well," he said.
Julia Easter is also one of the three athletes who committed today. She will be playing basketball at St. Norbert's College.
"It feels good and I thought I wouldn't miss Niles West but now I am.," she said, "It's a sad moment but I'm exctied to be playing."
"I've had the great fortune of coaching Julia for three years.The best part of her on the basketball court is that she is getting better year after year. She is a steal for St. Norbert's– they are going to see she gets better year after year," varsity girls basketball coach Tony Konsewicz said. "She is so dedicated and I am really proud of her efforts over her career at Niles West."
Christine Mujica is the third athlete to commit today and will run cross country at DePaul University. "I feel very accomplished," she said. "Originally I wanted to play soccer freshman year but seeing the way everything panned out I'm really proud of every accomplishment that didn't require an assist or help from anyone else."
Mujica's coach, Anne Heselton, said, "I am so excited for Christine to go to DePaul next year and see how she does. Every year she has come in and improved and that is not common in runners to improve every year. She came in not really knowing what cross country was and now she has a scholarship to continue her career at the collegiate level."