Niles West Plants Tree In Honor of Mr. Paul Wack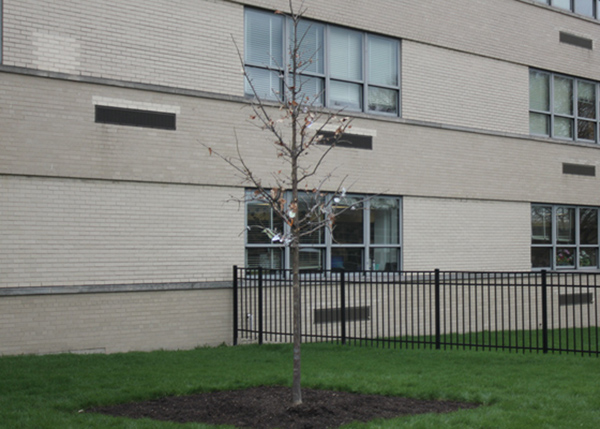 By Vinny Kabat
April 21, 2015
Hang on for a minute...we're trying to find some more stories you might like.
Niles West administrators honored late English teacher Paul Wack Friday morning by writing messages on slips of paper and hanging them on a freshly planted tree in Niles West's courtyard. This act was inspired by a Japanese form of poetry known as "Tanka," according to Sanlida Cheng, Niles West's Director of Humanities.
"Paul was very attuned to the living world, both through nature and through people, all of whom he found interesting," Wack's friend and fellow English teacher, Dana DesJardins, said. "He also, obviously, loved poetry, and there is a Japanese tradition called tanka in which people write linking poems on slips of paper and then hang them in trees, where the words metaphorically blow and dance and eventually dissolve in the rain.  While we did not honor the form of the tanka, we did honor the spirits of poetry and nature that Paul respected in his life every day.  His attention helped us pay attention too," she added.
 Wack passed away after battling Amyotrophic Lateral Sclerosis  on Sunday, Feb. 8 but has been far from forgotten.
"The tree is an oak, chosen because it will outlive all of us.  Poetry reminds us that while we cannot live forever, we can be part of something that can," DesJardins said.